Do you have trouble finding sleeping bags that fit?
Tall people can have trouble finding sleeping bags that are the right length for them. Standard sleeping bags just aren't made with big and tall people in mind. That's why we've created this comprehensive product review, to help you find the best sleeping bag for your needs. We'll discuss the features and benefits of each bag, and help you decide which one is right for you!
You deserve to get a good night's sleep without having to worry about whether or not your sleeping bag fits. With our help, you can find a high-quality sleeping bag for the tall person that will give you a warm and comfortable night's sleep.
How We Choose The Best Sleeping Bags
Longer sleeping bags for tall people do exist but tend to require a bit more searching.  Most sleeping bags are indeed designed for people who are shorter than average, but there are some great tall sleeping bag options.
A standard-size sleeping bag just won't provide you the leg room or extra foot space you need. So we've done the hard part and found the best sleeping bags for tall people. Read on to find the perfect sleeping bag for you!
HiZYNICE 0 Degree Sleeping Bag 100% Cotton Flannel
What We Like About It
When you need a cozy, oversized sleeping bag that will keep you warm even on very cold nights, look no further than the HiZYNICE 0 Degree Sleeping Bag!
Sleeping outdoors, you don't always know what weather to expect. If the temp happens to drop lower than you expect overnight, a standard sleeping bag will have you waking up cold. So be prepared with the right camping gear and the right size sleeping bag will be a huge help for those colder nights.
Made of 100% cotton flannel, this sleeping bag is soft and warm, with a wide temperature range perfect for camping in 3 seasons. The extreme temperature rating is 0 degrees Fahrenheit, while the comfort rating is 30 degrees Fahrenheit. A draft tube along the zipper helps to keep cold air out and the warm air of your body heat in, making this sleeping bag ideal for use in colder climates.
What You Should Know About It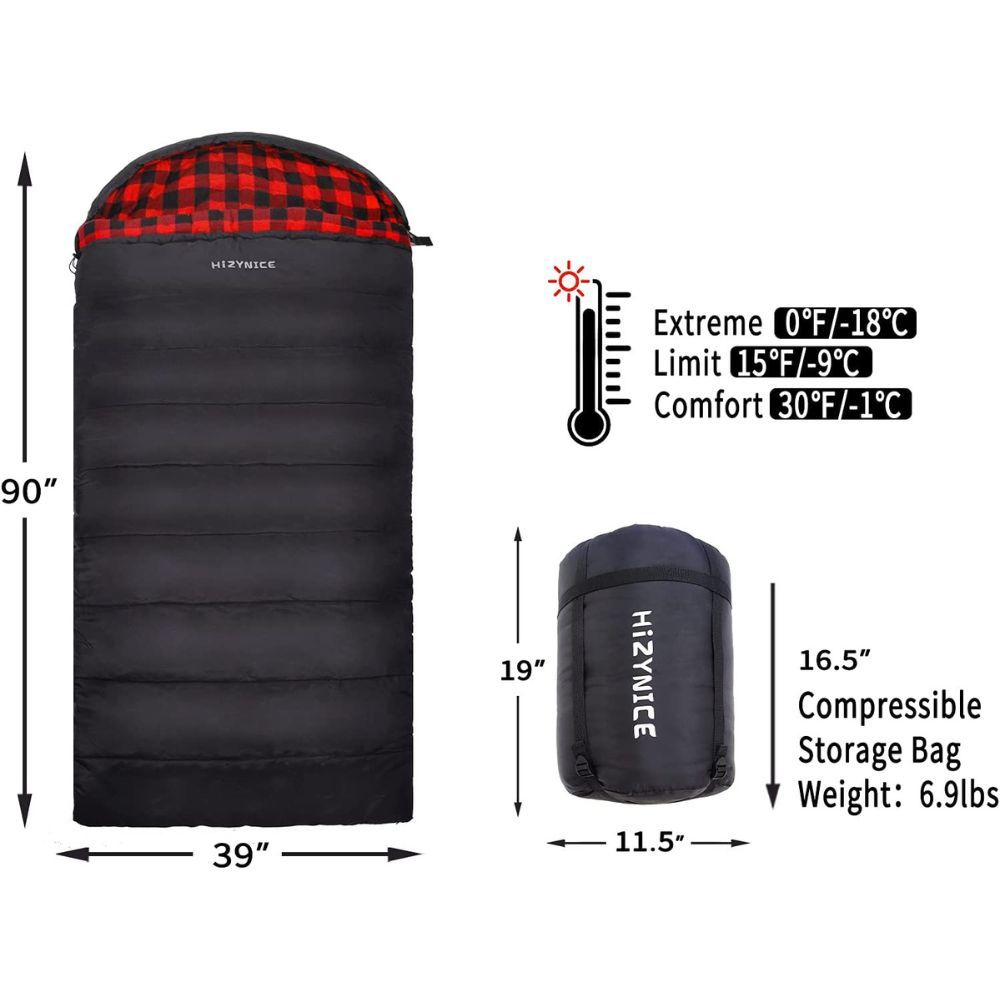 Camping is one of the best ways to enjoy nature and get away from the hustle and bustle of everyday life. But if you're not properly prepared, it can also be quite uncomfortable. That's why investing in an extra-large sleeping bag is a must for big and tall people who love to camp.
This spacious bag measures 90 x 39 inches, making it ideal for people up to 6 feet 7 inches tall. And because it's made with flannel, it's both soft and durable. Plus, it's machine washable - so you can easily keep it clean after a long hike or a muddy camping trip.
This sleeping bag features anti-snag zippers, plenty of extra room, and extra warmth, just what tall guys need for sleeping in outdoors. We think it's one of the best tall sleeping bags available.
ECOOPRO Warm Weather Sleeping Bag
What We Like About It
The ECOOPRO Warm Weather Sleeping Bag is perfect for camping and hiking in warmer weather. It features a durable nylon outer shell and a 100% polyester lining that is breathable and skin-friendly.
The sleeping bag is also waterproof and weatherproof, with a smooth zip closure for added convenience. Our sleeping bag measures 83"L x 30"W which can accommodate an adult up to 6' 11" or even two children side by side due to its extra width.
Often, extra-large sleeping bags can be heavy to carry. This is a compact and lightweight sleeping bag, making it easy to carry with you on backpacking trips. So if you need a big and tall bag for the hot summer nights, make ECOOPRO Warm Weather Sleeping Bag your go-to backpacking bag.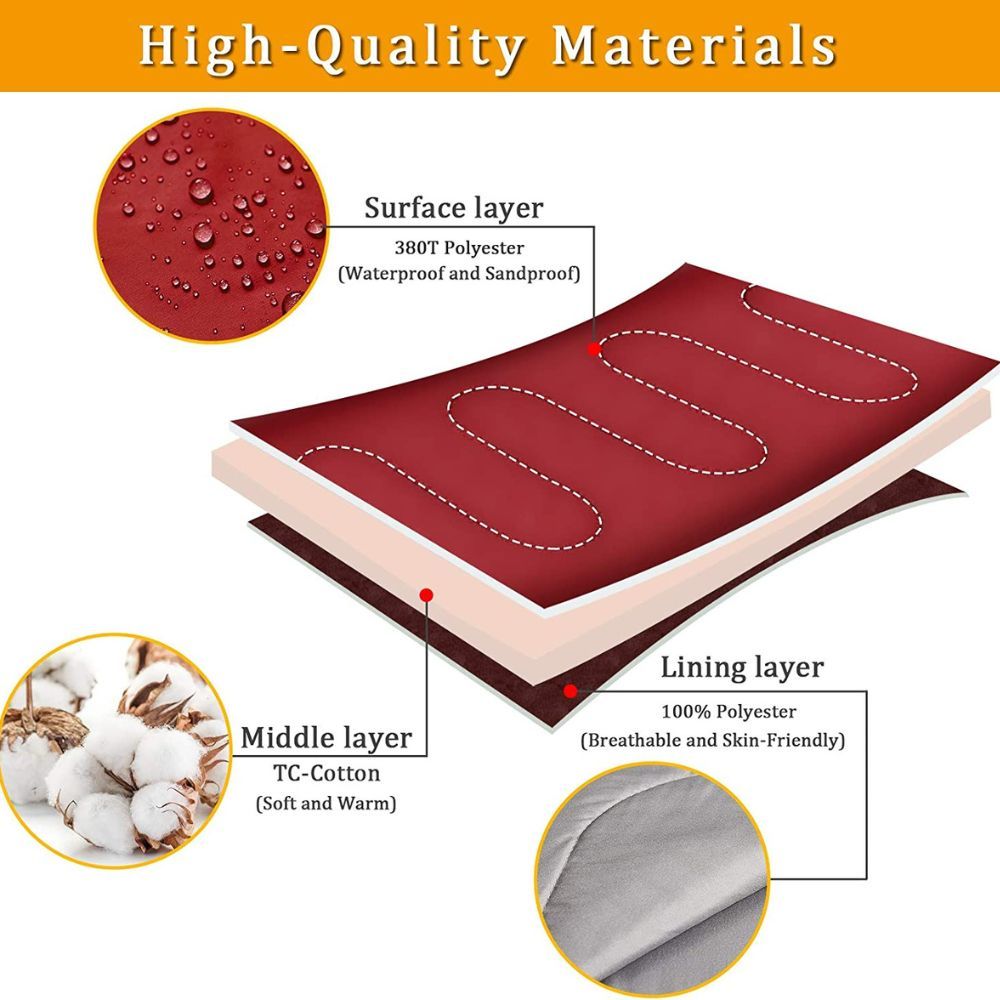 What You Should Know About It
This tall sleeping bag is perfect for summer camping trips or hikes in milder climates - but it can also be used as a comforter in colder weather. And even though it is a huge sleeping bag, the lightweight materials and accompanying compression sack make this one piece of camping gear you don't want to be caught without on warmer nights.
The secret to its versatility lies in its construction. The outer shell is made from water-resistant and breathable fabric, while the inner layer is made from insulating polyester. This combination of materials makes it one of the best sleeping bags for a wide range of temperatures. So if you're a big guy camping on hot nights, be sure to grab this extra-long sleeping bag!
TETON Sports Tracker Ultralight Double Sleeping Bag
What We Like About It
The Teton Sports Tracker Ultralight Double Sleeping Bag is the perfect size sleeping bag for big and tall people, providing much-needed comfort and warmth. You don't see double sleeping bags too often, so the fact that it's also an extra-long sleeping bag as well makes it especially suited for big and tall people.
Designed with mummy hoods to eliminate gaps and keep warmth around your head and face, a zipper draft tube, and added insulation in the vaulted foot box. Plus, the Teton Sports Tracker is lightweight and comes with a compression sack, making it perfect for backpacking, hiking, and other outdoor activities.
So don't let cold temperatures keep you from enjoying the outdoors – get yourself this double-wide sleeping bag and enjoy a good night's sleep in the great outdoors!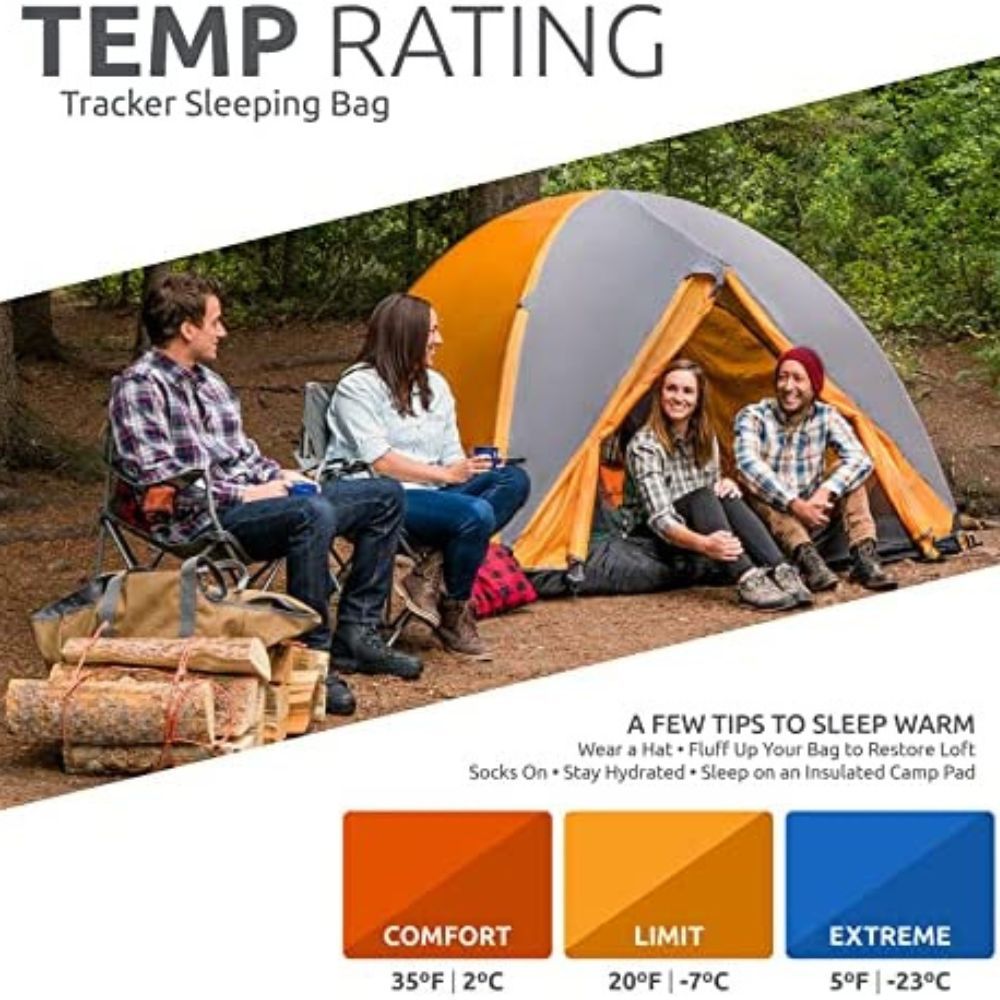 What You Should Know About It
This extra-wide sleeping bag measures 87" x 63" at the shoulders, and x 44" down at the feet. This will accommodate an adult up to 7 feet tall. Made of 100% polyester, the shell is diamond ripstop and water resistant, while the lining is a soft brushed micro-polyester.
It will pack down tightly into an 18" x 10" since it comes with a compression sack, and only weighs 8.2 lbs making it easier to lug around. This is a really good sleeping bag, so don't overlook this one!
FARLAND 4-Season Sleeping Bags
What We Like About It
When you need a good night's sleep even after a tiring day of exploring, look no further than the FARLAND Sleeping Bag!
This extra tall bag is designed for a wider range of temps, from 20-62℉/-7-17℃, with a waterproof and weather-resistant design, so that you stay warm even in extreme conditions. Double-filled technology makes it super cozy and comfortable, while the roll control design makes folding quick and easy. You can even zip two FARLAND Sleeping Bags together for double the room!
So whether you're planning your next big camping trip or just want to be prepared for anything, make sure to pack a FARLAND.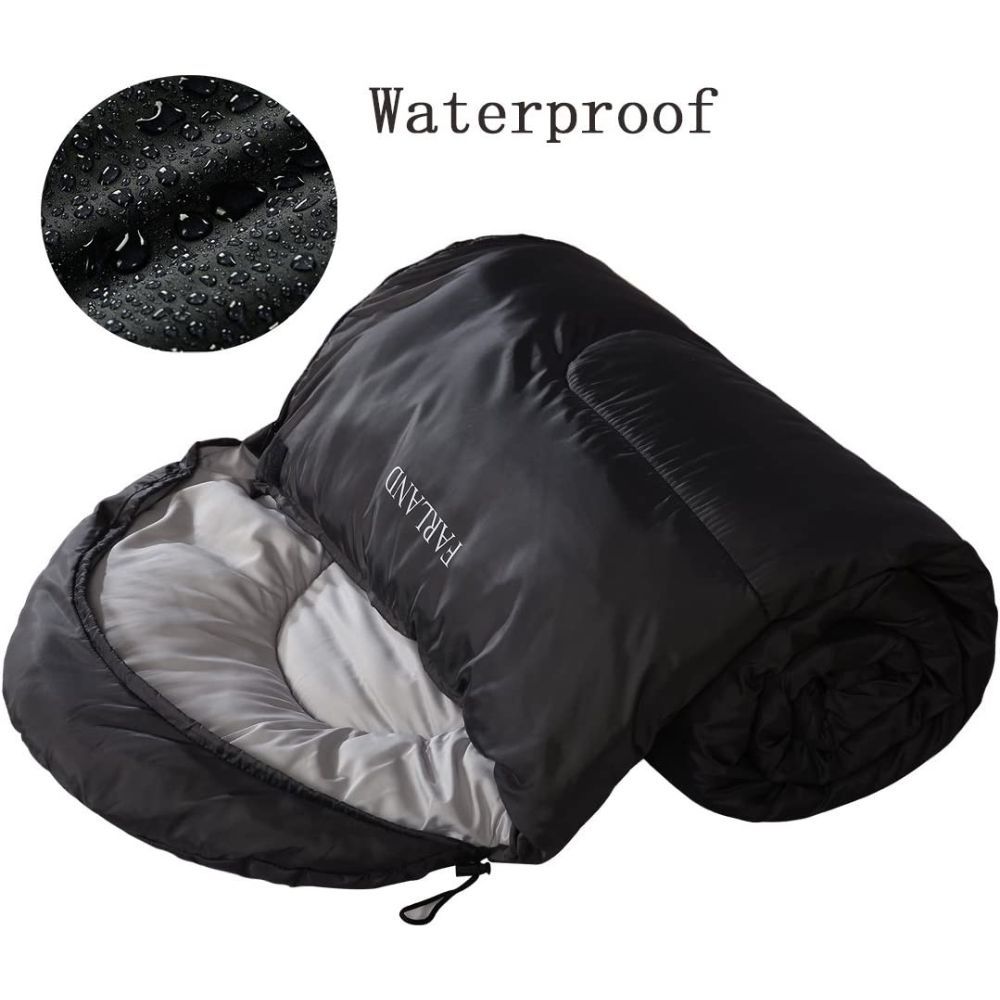 What You Should Know About It
This envelope-shaped sleeping bag measures 29.5" by 86.6", and although it's not announcing itself as an extra tall size sleeping bag, it will fit adults up to 7 feet tall. Just be aware that it's not especially wide. Also, this guy is only 4lbs packed in its stuff sack - it's the lightest sleeping bag for big people we could find.
Guide Gear Canvas Hunter 0-Degree Double Sleeping Bag
What We Like About It
Looking for a cozy XXL sleeping bag for seriously cold weather? Then the Guide Gear Canvas Hunter 0-Degree Double Sleeping Bag is for you!
Lined with soft, cotton flannel, and generously filled with 7 lbs. of down fleece insulation, this roomy sleeping bag is comfort rated down to 0°F, meaning you can enjoy the outdoors even when it's very cold.
The attached hood helps to retain heat, and it's built with a full-length zipper so that you have the option of opening it up to be a large blanket.
Whether you're camping with a partner or snuggling up solo, the Guide Gear Canvas Hunter 0-Degree Double Sleeping Bag is sure to keep you toasty warm all night long.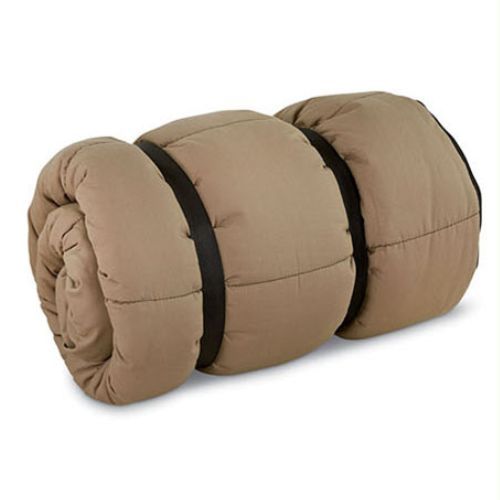 What You Should Know About It
Leaving the comfort of your own bed and venturing out into the great outdoors during winter means you need an excellent down bag. This double-wide sleeping bag will keep you comfortable down to 0 degrees. All this warmth adds weight though - at nearly 14lbs this is not the most lightweight sleeping bag. But as long as traveling light is not a requirement, we think this XXL sleeping bag will be your new best friend.
MEREZA Double Sleeping Bag
What We Like About It
The MEREZA Double Sleeping Bag is designed with winter in mind - the double-layer construction and 400 GSM innovation fiber filling provide maximum warmth and a soft feel. Plus, the roomy rectangular shape comfortably fits most campers up to 7 feet, so you'll have plenty of room to stretch out.
The bottom zipper also lets you ventilate the foot section for better temperature control. And for an added touch of comfort, a 220 G plush filling camping pillow is included. So why not give the MEREZA Double Sleeping Bag a try on your next camping trip? We're sure you'll love it!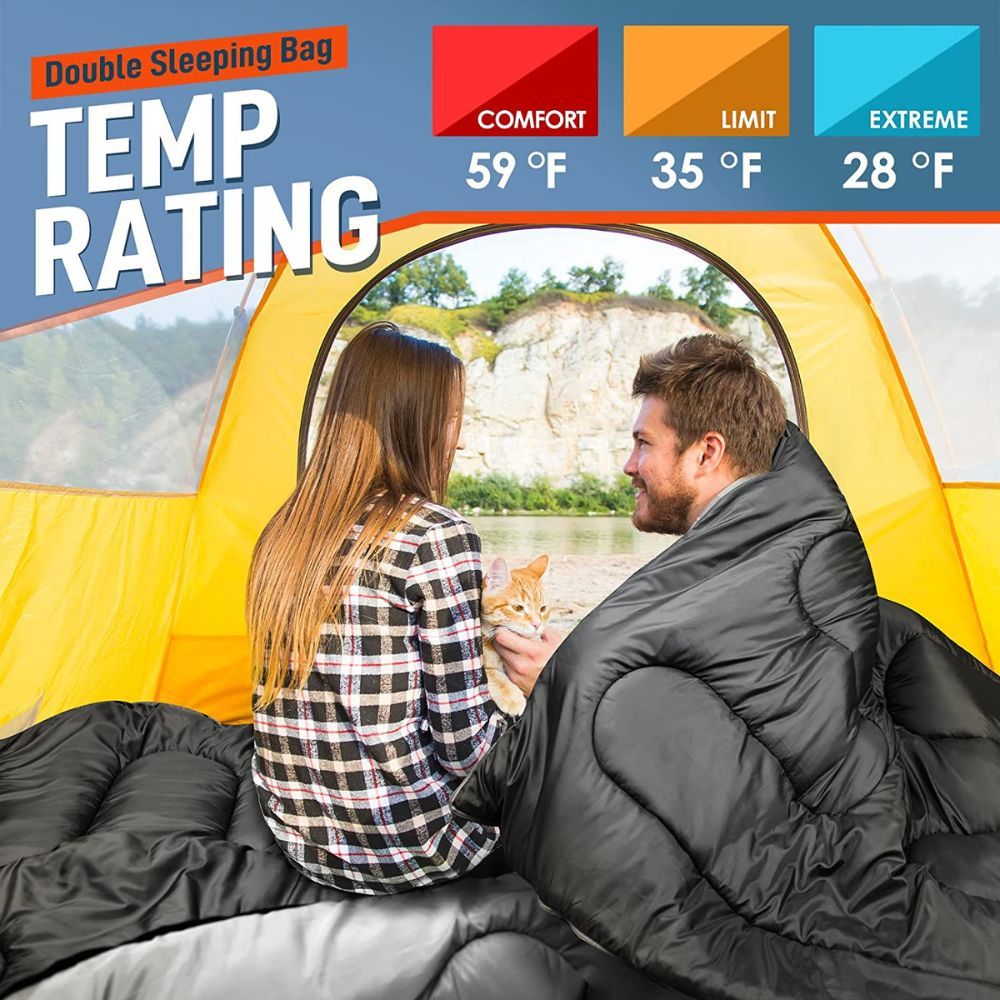 What You Should Know About It
The MEERZA will be comfortable in a temperature range of 28-59 degrees and comes with two pillows if you want to sleep with a partner to stay extra warm. It also comes with a better-than-usual compression sack, which is easy to stuff, watertight, and has a convenient carrying handle.
The Best Sleeping Bag for Tall People - FAQs
While sleeping bags are an essential piece of gear for any camping trip, it can be tough to find one that's comfortable and fits your tall frame.
Most sleeping bags are made for people who are of average height, so they don't fit taller people as well as they should. This can make it difficult to get a good night's sleep while camping or traveling.
The best sleeping bag for tall people is the one that is specifically designed with extra length and width to accommodate taller individuals. We've compiled the most frequently asked questions to help you make the best decision for your needs.
How tall should a long sleeping bag be?
Any bag that measures over six feet long would be considered a long sleeping bag. Be sure to know your exact measured height so that you can search for a bag that will accommodate your specific size.
What are the different types of sleeping bags?
There are 5 different types of sleeping bags. The first kind are the mummy sleeping bags. Mummy bags are good for cold weather since they fit tighter around your body. The second type is the rectangular bag, which is good for warm weather. The third type is the semi-rectangular bag, which is a mix between the mummy and rectangular bags. The fourth type is the barrel bag, which has a cylindrical shape and can be zipped together to form two sacks. The fifth type is the envelope bag, which is basically just a large sack with a hole in one end for your head.
Which sleeping bag shape is more effective?
It depends on what you mean by "effective." If you're looking for warmth, then a mummy sleeping bag is more effective because it has less extra material to insulate, which means there's more heat trapped near your body. If you're looking for comfort, then a rectangle sleeping bag is more effective because it allows you to move around more and find a comfortable position.
Ultimately, it comes down to personal preference. Some people prefer the warmth of a mummy sleeping bag, while others prefer the comfort of a rectangle sleeping bag. Just be sure to choose the shape that's best suited to your needs!
What size is a long sleeping bag?
Long sleeping bags come in a variety of sizes, but the most common size is queen or king. Some long sleeping bags can even accommodate two people.
Does it matter if a sleeping bag is too big?
It can matter, but it really depends on what you're using the sleeping bag for. If you're camping and need a lot of space for movement, then a larger sleeping bag would be better. However, if you're using it as a backpacking sleeping bag or for mountaineering and need to save weight, then a smaller sleeping bag would be better.
Can a sleeping bag be too big?
Yes, a sleeping bag can certainly be too big! If your sleeping bag is much larger than your body, you'll have a lot of extra space inside it that will need to be warmed up - and that takes effort and body heat. Likewise, if your sleeping bag is too long for you, it will be difficult to keep the bottom of the bag from dragging on the ground (and getting wet or dirty).
So, what's the perfect size for a sleeping bag? It really depends on how you like to sleep. If you're someone who likes to feel cozy and cocooned in your sleeping bag, then you'll want one that's smaller and more fitted. But if you prefer lots of room to move around while sleeping, go for the larger size.
What is the longest sleeping bag?
To date, the longest sleeping bag on record is the Mammoth. It measures a whopping 24 feet long and 8 feet wide, making it big enough to comfortably accommodate 10 adults! This super-sized sleeping bag is designed for extreme cold weather camping and expedition use, with a temperature rating of -40°F. It's made with durable waterproof fabric and 600-fill goose down insulation, to stay warm and dry even in the most extreme conditions. If you're looking for a truly enormous suitable sleeping bag that will keep you cozy in even the coldest temperatures, the Mammoth is the way to go!
How do you want a sleeping bag to fit?
Ideally, the best sleeping bags will fit snugly around your body with no air gaps. This will help keep you warm by trapping heat close to your body.
Some people prefer a looser fit so that they can move around more, but this will also allow more cold air to penetrate the bag and make you colder. If you're not sure which fit is best for you, it's best to go with a snugger fit so that you'll stay warmer.
What is a 300 sleeping bag?
A 300 sleeping bag is a bag that is rated to keep you warm in temperatures down to 30 degrees Fahrenheit. It is perfect for camping in the spring and fall when the temperatures are a little cooler, but you don't need a heavy-duty winter sleeping bag.
A 300 sleeping bag can also be used as a lightweight summer sleeping bag when the temperatures are expected to stay below 70 degrees Fahrenheit. This type of sleeping bag is made with synthetic insulation, which will help you stay warm even if it gets wet.
How do I know my sleeping bag rating?
If you want to know your sleeping bag rating, there are a few things you'll need to take into account. First, consider the season in which you'll be using your sleeping bag features. For summer camping, a light bag with a lower temperature rating should suffice. However, if you're planning on doing any winter camping, you'll need a warmer bag that's rated for colder temperatures. Another thing to think about is the type of material your sleeping bag is made from. Down is typically warmer than synthetic insulation, so if you're looking for a really warm bag, down is probably the way to go. Finally, consider the shape of your sleeping bags.
How can I keep my sleeping bag in good shape?
Here are a few tips to help you get the most use and duration out of your sleeping bag:
Make sure to fluff up your sleeping bag before use. This will help to maintain its loft and keep you warm.
Hang loops are great for long-term storage. They help to keep the sleeping bag from losing its shape and maximize its loft.
Use a camp pad to sleep on. This will insulate you from the ground and make it easier to sleep comfortably.
The Best Sleeping Bag for a Tall Person
So, if you are a tall person whose looking for a comfortable sleeping bag for your height, use this article to narrow down the search for a good one. We have provided some of the best options on the market so you can find the perfect one for your needs. Be sure to consider all of the factors we mentioned when making your purchase.

Happy camping!