Looking for the best tent waterproofing sprays?
You've come to the right place! In this article, we will review some of the best waterproof tent spray products on the market and provide you with a buying guide to help you choose the perfect one for your needs.
Whether you are looking for something for your nylon tent, hiking boots or other gear we have got you covered. So, without further ado, let's get started!
How We Choose
You go camping with your family and friends, and the forecast calls for rain. You don't want your trip to be ruined, so you search Amazon for a waterproofing spray that will save your tent.
It's stressful when you're trying to pack for a camping trip under these conditions and, if your gear has not been prepared correctly, you could get soaked and your trip would be a disaster.
I have personally read thousands of reviews on Amazon to find the best waterproofing spray for your tent use. After reading all of those reviews, I found the best waterproofing spray that is affordable and easy to use.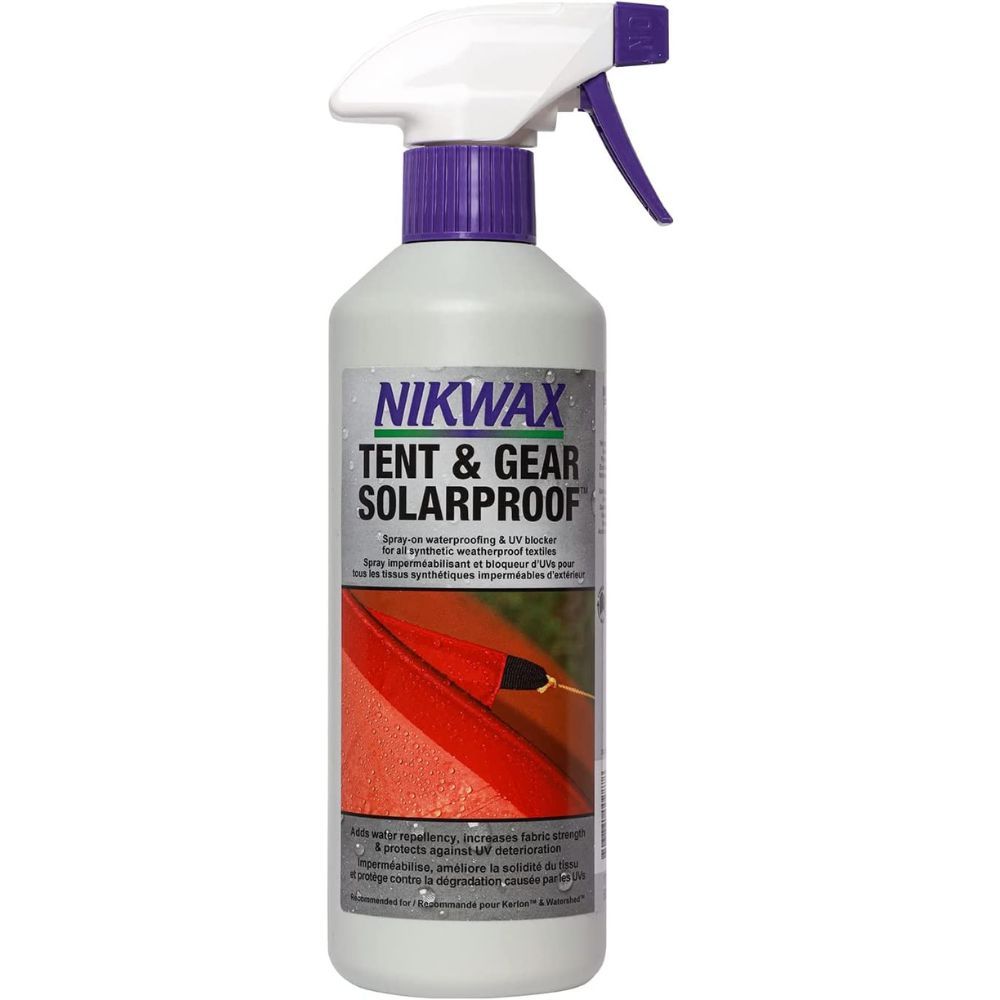 Best UV Protection
Nikwax Tent and Gear Solarproof
Check Price on Amazon
Why We Love It
Waterproof your tent and gear with Nikwax Tent and Gear Solarproof! This easy-to-apply waterproofing treatment is perfect for restoring waterproofing to older tents, and it also adds UV protection to lengthen the lifespan of your gear.
With just one application, you can enjoy worry-free camping for seasons to come. So don't wait – water proof your gear today with Nikwax!
What You Should Know
Looking for the best way to waterproof your tent? Nikwax tent spray has you covered. This water-based spray is biodegradable and contains no harmful PFCs, VOCs, optical brighteners, or added scent.
It's great for use on tents, fly sheeting, backpacks, awnings, boat covers, umbrellas, patio furniture, and panniers. Each bottle covers approximately 120 square feet, making it easy to protect all your gear.
So before you head out on your next camping trip, be sure to grab a bottle of Nikwax Tent & Gear SolarProof spray.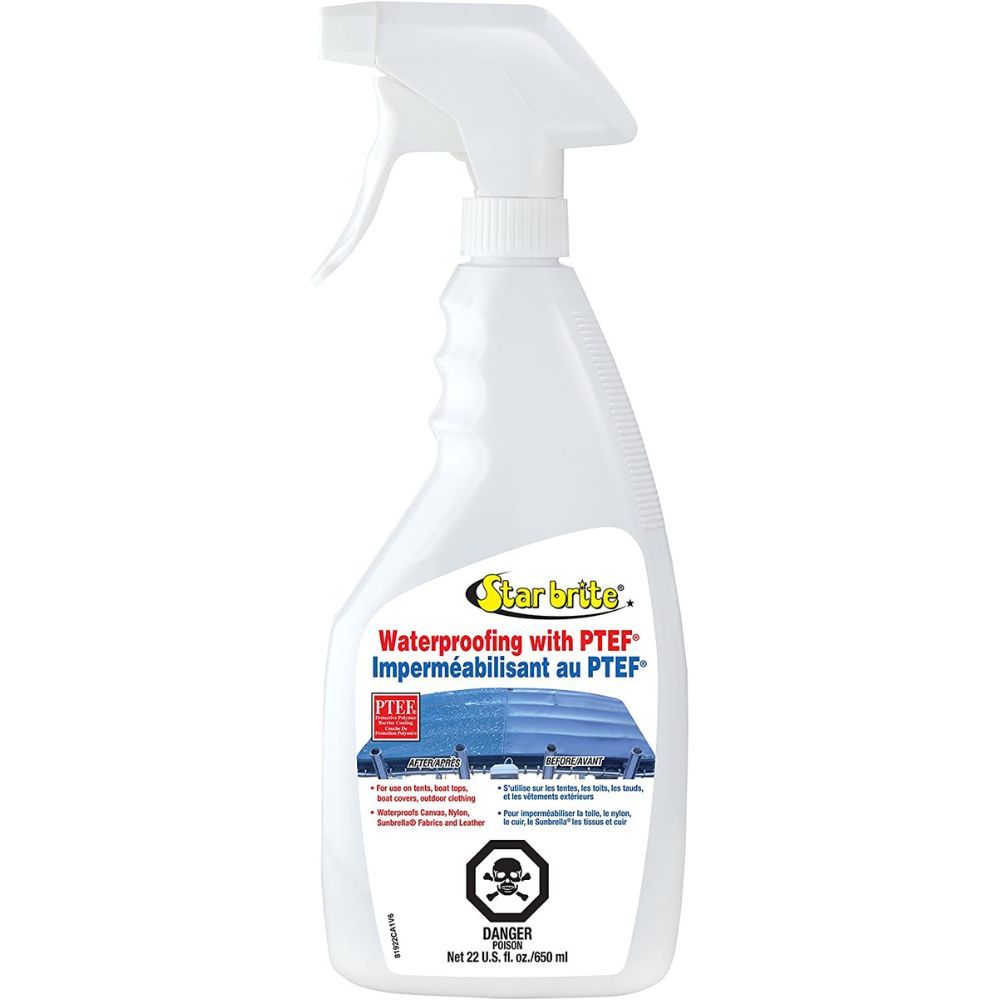 Best Value Buy
Star Brite Waterproofing with PTEF
Check Price on Amazon
Why We Love It
Looking for a product that does it all? Say hello to Star Brite Waterproofing with PTEF! This versatile treatment is perfect for protecting new fabrics, adding years of service life by repelling stains, preventing leaks and protecting your gear from harmful UV rays.
It's safe for use on tents, outdoor clothing, and more, making it a great choice for those who love to camp and spend time outdoors.
That's good value for money and, of course, a highly practical solution for protecting your camping gear. So why not give it a try? You'll be glad you did!
What You Should Know
Do you love camping but hate dealing with a wet tent? Then you need the best tent waterproofing spray on the market: Star Brite waterproofing spray. This easy-to-use spray bottle holds 22 ounces and covers 80 square feet of fabric.
It works best on synthetic fibers, so you can use it on your beloved tent without worry. Plus, a single coat is all you need – so no lugging around a heavy can of waterproofing spray!
And best of all, it's made in the USA. Star Brite won't change the tent fabric feel, breathability, color, or quality in any way, so you can rest assured your gear will be protected from the elements without any negative side effects.
So don't let a little water ruin your next camping trip – be prepared with Star Brite!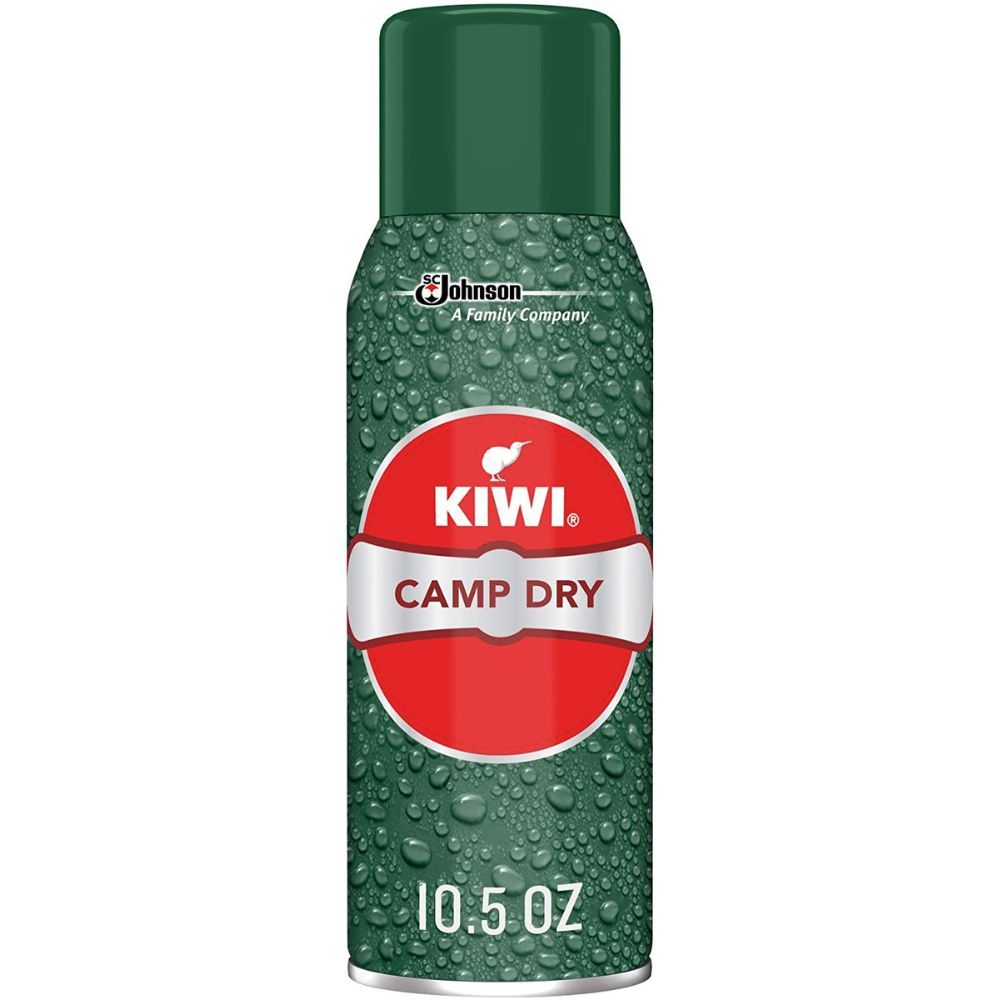 Best Silicone Spray
Kiwi Camp Dry Heavy Duty Water Repellent
Check Price on Amazon
Why We Love It
Are you an avid camper? Do you love spending time in the great outdoors? If so, then you know how important it is to have gear that can withstand the elements.
That's where Kiwi Camp Dry Heavy Duty Water Repellent comes in. This super tough water repellent works on any outdoor gear that is made of fabric (tents, tarps, boots, hunting apparel, outdoor gear, rain gear, boat covers, and more).
It does an excellent job of protecting tent seams and will keep your gear looking great for season after season.
What You Should Know
There are a lot of different waterproofing sprays on the market, but not all of them are created equal. The Kiwi Camp Dry aerosol spray can contains 10.5 ounces and covers approximately 80 square feet, making it a great option for larger tents.
The spray contains silicone, which helps to repel water and prevents mold and mildew from forming. In addition, the spray needs to dry for 24-48 hours before folding up the tent, so be sure to plan ahead.
For best results, apply two coats of Kiwi Camp spray. This will provide the best protection against moisture and extend the life of your tent.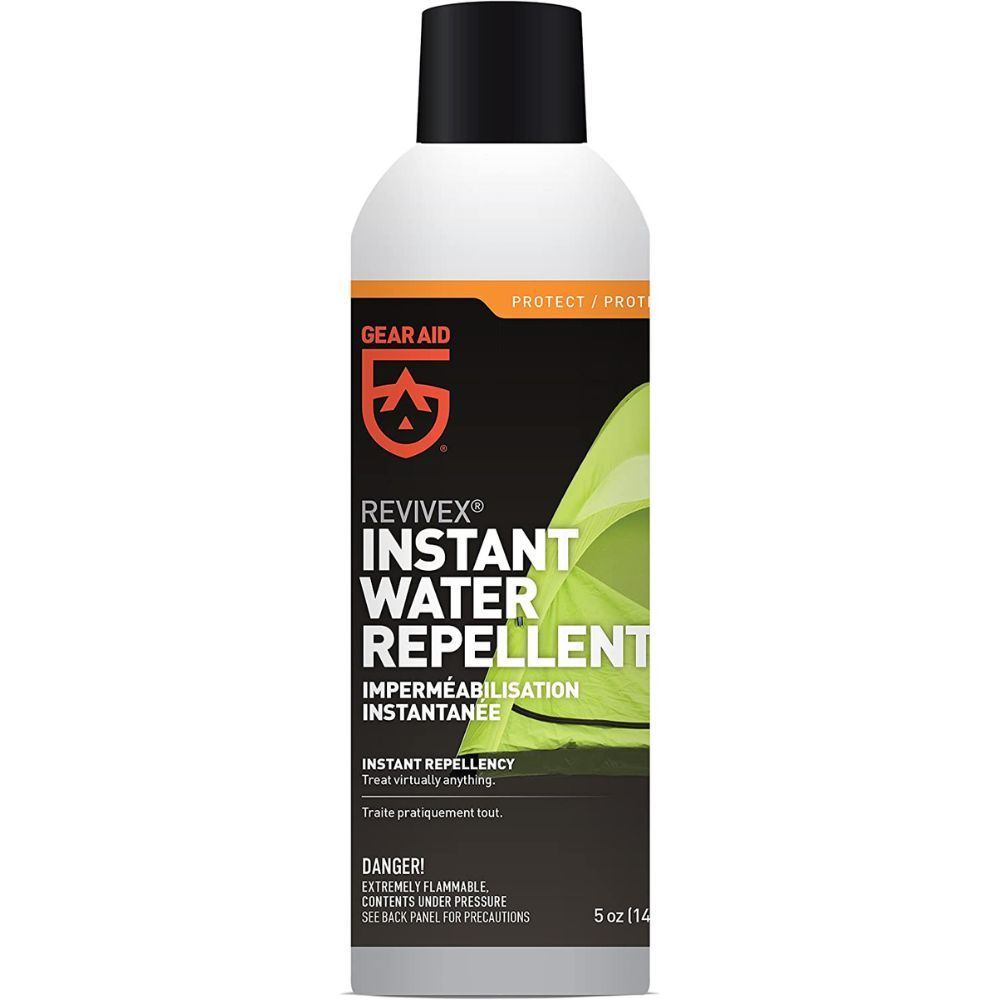 Best for Small Projects
Gear Aid Tent Waterproofing Spray
Check Price on Amazon
Why We Love It
If you love spending time outdoors, then you know how important it is to have gear that can withstand all kinds of weather. That's why you need Gear Aid Tent Waterproofing Spray. This spray is specially formulated to protect against water damage on nylon, leather, and waterproof-breathable materials like GORE-TEX jackets.
It's easy to use, and it will extend the life of your gear so you can enjoy the great outdoors for years to come. Don't let wet weather ruin your next camping trip or hike. Be prepared with Gear Aid Tent Waterproofing Spray.
What You Should Know
When you're out camping, the last thing you want to worry about is your tent getting wet. That's why Gear Aid Tent Waterproofing Spray is a must-have for any serious camper.
This spray creates a protective barrier against water, oil and stains, making it safe to use on all fabric and paper objects. Plus, it's silicone free, so you don't have to worry about it damaging your tent.
It is also great for small jobs like waterproofing your shoes or treating a stain on your clothing. So next time you head out into the great outdoors, be sure to bring along your Gear Aid spray.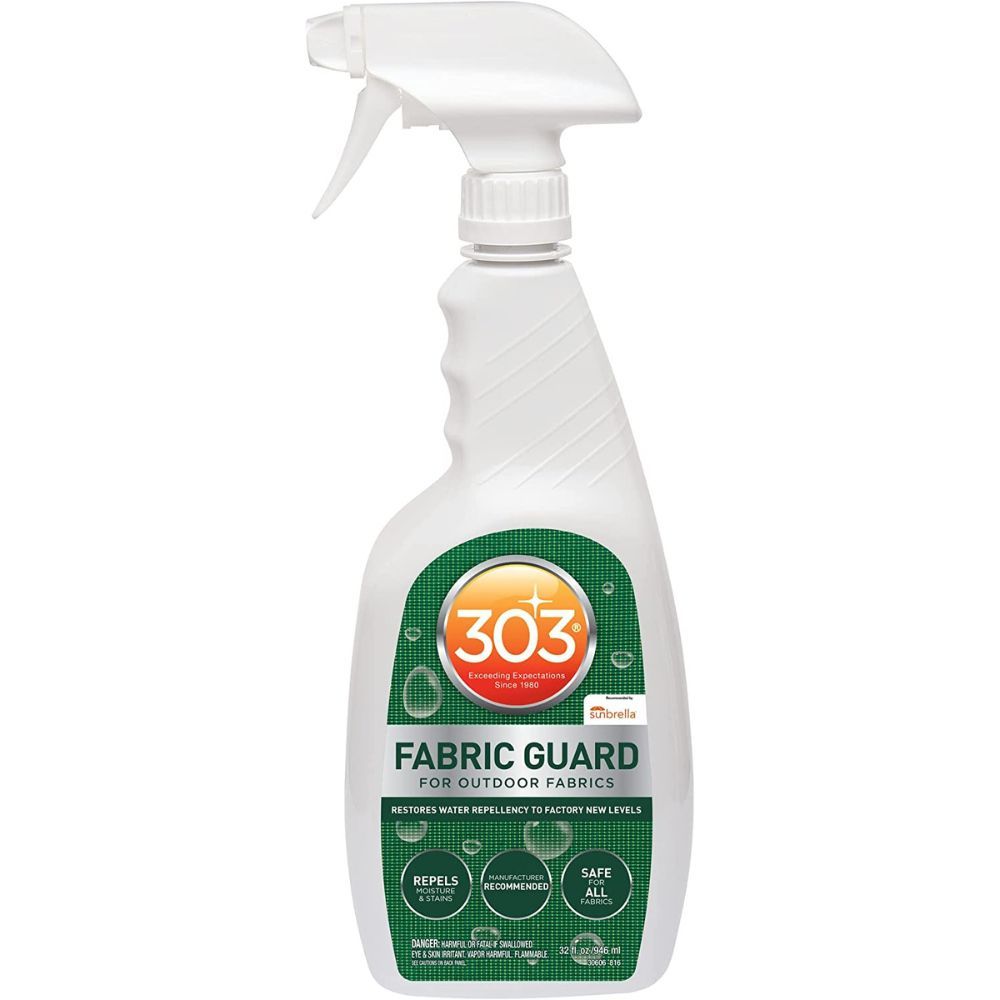 Best for Ease of Use
Check Price on Amazon
Why We Love It
Looking for a way to keep your tent and outdoor gear looking new? 303 Fabric Guard is the perfect solution! This versatile spray is safe for all types of fabrics, including natural fibers and synthetics.
It's easy to control, so you can apply just the right amount to protect your fabrics from spills, stains, and everyday wear and tear.
Plus, it's invisible once it dries, so it won't change the look or feel of your fabrics. Keep your clothes, outdoor furniture, and other fabric items looking their best with 303 Fabric Guard!
What You Should Know
When it comes to waterproofing your tent, you want to be sure you're using the best product possible. That's why we recommend this tent protectant spray. It contains 32 ounces and covers approximately 100 square feet of fabric.
Just spray it on and allow it to dry for 12-24 hours before folding up your tent - excess spray should be smoothed out with a sponge or clean cloth. And best of all, this protective spray does not alter fabric color, feel, flammability, or breathability.
However, please note that this product does not provide UV protection. So if you're planning on using your tent in sunny weather, be sure to pack some sunscreen!
Buyers Guide
Now that you know a little more about some of the best waterproofing sprays on the market, let's move on to our buying guide. In the next section, we will discuss some of the things you should keep in mind when choosing a waterproofing spray for your camping needs. Keep reading to learn more.
How to use Tent Waterproof Spray Correctly?
Different kinds and sizes of waterproofing sprays may vary, so check your container. In general, waterproofing is quick and simple. This is a list of things to consider: Please remember silicone spray is for nylon or polyester tents, not a canvas tent!
Use an airbrush with a soft bristled brush for application. It's the easiest and least messy option I know. Don't forget to treat the whole tent - tent walls as well as the top to protect you from blowing rain.
Waterproofing Canvas
Most waterproof sprays for tents aren't suited for canvas. You should not use a spray containing silicone on a canvas tent. The waterproofing of canvas tents is even more important than nylon ones. Not only will your camping tent leak unless your tent is properly prepared, it also starts developing mildew which may cause serious injury to your tent.
Prepare the canvas and your work space so that you can easily apply the solution with a large paintbrush or sponge. Do not fold the tent up until the waterproof sealant is completely dry.
When to Waterproof a Tent?
It's impossible for anyone to go camping and always avoid rain storms. But the fact that your tent is not entirely waterproof can quickly turn into nightmares. Luckily modern camping tents are water-resistant.
Even those that are better quality could use some added safeguard - especially when used properly. It is waterproofing that is crucial for camping tents. Waterproofed tents can help prolong their lifetime, protect against wear and tear and keep us dry all the time.
Waterproofing versus seal sealing
Sealing and waterproofing are both excellent methods to preserve and restore your tent. Waterproofing is a lot easier. Simply spray the surfaces of your tent and allow it to dry.
Using seam sealer takes a little more work because you must paint the sealing glue along the seams with accuracy. It's not difficult or pricey, however. If you want to save time, you can buy a waterproofing spray that also seals the seams.
One of the best ways to increase the lifespan of your tent is to regularly waterproof it - even if you don't plan on using it for a while. This will keep it in good condition and prevent any damage from weather or other elements.
KEYWORD FAQ
People are often unsure about what the best tent waterproofing spray is. There are a lot of factors to consider when choosing tent waterproofing sprays, and it can be hard to figure out which is the right waterproof tent spray for your situation.
We've put together this guide to answer the most common questions people have about the best waterproof tent sprays. By understanding the best methods for waterproofing your entire tent and the different waterproof coating types and their benefits, you'll be able to choose the best waterproofing spray for your needs.
What is the best tent waterproofing spray?
There are many tent waterproofing products on the market - there is no one "best" waterproofing spray, as different products work better or worse depending on the tent fabrics used.
A basic silicone spray or water-repellent treatment like Nikwax Tent and Gear SolarProof will work well on most tents, especially on nylon fabric, but it's important to read the instructions carefully to make sure you don't damage the fabric.
Some products, like Atsko Silicone Water Guard and Gear Revivex, are designed specifically for waterproofing tents, and they can be more effective than a general silicone spray. However, they can also be more expensive.
In any case, it's important to test a waterproofing treatment on a small area of your tent before spraying the entire thing, to make sure it doesn't damage the fabric.
Should I waterproof my tent?
It depends on what kind of tent you have and how often you will be using it. Most tents these days are made with a water-resistant or waterproof coating, but that coating will eventually wear off and the tent will lose it's waterproof protection. If your tent is not coated and you plan to use it frequently, then waterproofing spray can help keep it protected.
However, if your tent is already coated and you only plan to use it occasionally, then waterproofing spray may actually do more harm than good. Over time, the spray can build up and reduce the water resistance of the fabric.
So before you decide whether or not to waterproof your tent, be sure to read the instructions carefully and test a small area first.
Can you spray a tent to waterproof it?
There are a few different ways you can waterproof your tent. One way is to buy a waterproofing spray specifically for tents. You can also use something like a silicon-based spray, which will help create a waterproof coat.
Another option is to make your own waterproofing solution by mixing one part fabric softener with four parts water. Spray this solution onto your tent and allow it to dry.
Do waterproofing sprays work?
There are a variety of waterproofing sprays on the market, and they can be effective at keeping fabric and other materials dry. However, it's important to read the labels carefully to make sure that the spray is right for the item you're treating.
Some sprays are only meant for short-term use, while others provide more durable protection. Waterproofing sprays can work by either forming a barrier on the surface of the materials or by bonding with the fibers to create a waterproof seal.
The effectiveness of the spray will depend on the specific product you're using, so be sure to follow the instructions carefully. In general, however, sprayed-on waterproofing is a good option for protecting items from moisture and stains.
How long does tent waterproofing last?
There is no definitive answer to this question as the longevity of tent waterproofing will depend on a number of factors, including the kind of waterproofing used, how often the tent is used, and how well it is cared for.
However, some Tent manufacturers claim that their products can last up to 10 years without any water issues.
One important thing to keep in mind is that even the best-quality waterproofing will eventually wear off, so it's important to regularly check your tent for signs of wear and tear. Annual treatment with a tenacious waterproofing agent like Scotchgard or Atsko Silicone Water Guard can help extend the life of your tent.
Additionally, storing your tent in a dry place out of direct sunlight will also help prolong its lifespan.
How do you keep the bottom of a tent dry?
There are a few things you can do to keep the bottom of your tent dry. First, make sure that your tent is pitched on a level surface. If the ground is uneven, water will accumulate in low spots and seep into the tent floors.
You can also use a tarp or footprint to create a waterproof barrier between the ground and your tent. And if it's raining hard, you can put some rocks or logs around the base of your tent to keep the water from flowing under it.
How long does waterproofing spray take to dry?
How long it takes for waterproofing spray to dry depends on the specific product you're using, as well as environmental factors like temperature and humidity. In general, however, most waterproofing sprays will take anywhere from a few minutes to a few hours to dry completely.
So if you're looking to apply some waterproofing spray to an item before heading out into the rain, make sure you give it plenty of time to dry first!
How often should you spray your tent?
It is best practice to spray your tent with a waterproofing agent prior to each camping trip. This will ensure that your tent stays protected from the elements, and will also help to keep you and your belongings dry while you are camping.
If you have a new tent, it may not be necessary to apply a waterproofing agent each time you use it. However, it is always a good idea to check the manufacturer's instructions to see if specific care guidelines are recommended.
And regardless of the age of your tent, be sure to routinely inspect it for any signs of wear and tear that could compromise its waterproofing capabilities.
How do you waterproof a canvas tent?
There are a few ways to waterproof a canvas tent. One is to use a spray-on waterproofing agent, which will create a barrier between the fabric and the elements. Another is to apply a silicon-based sealant to the seams of the tent.
Finally, you can also purchase a waterproof canvas tarp that can be used as an additional layer of protection. Whichever tent waterproofing method you choose, be sure to follow the instructions carefully and allow the tent to dry completely before using it.
Why does my tent get wet inside?
Q10 - Why does my tent get wet inside?
Waterproofing your tent is important to camping in wet weather. If your inside layer gets wet, it's because the outside layer is insufficiently waterproof, either from poor design or because it hasn't been properly treated with a waterproofing agent.
Check the seams of your tent to make sure they're properly sealed. If they aren't, you can use a seam sealer to seal them up. Make sure you treat your tent with a good waterproofing agent like Nikwax TX Direct Spray-On or something similar.
Waterproofing agents help keep water from soaking into the fabric of your tent and make it easier for water to bead up and roll off.
Best Tent Waterproofing Spray for You
So, if you are looking for a the best tent waterproofing spray that will keep you dry during the eventual downpour while camping then the best option for you is to go with any of the products recommended in this article.
All of them have received great reviews and will surely meet your needs while camping. Make sure to consider all the factors mentioned before purchasing a waterproofing sprat so that you can make an informed decision and enjoy a good night's sleep during your next outdoor adventure!
💡
Some of the links on this page may generate a small commission from purchases made through those websites, at no extra cost for you. This helps keep our site up and running so we can continue providing quality content!