Are you looking for the best cooler for your next camping trips?
When it comes to camping, coolers are an essential piece of camping equipment. You need something that can keep your food and drinks cold for the duration of your camping trips. With so many coolers on the market, whether you're just starting your research or are ready to buy it can be tough to decide which one is right for you. That's why we've put together a comprehensive list of the best coolers for your next adventure.
💡
We hope you find something special from the list below! Each product was independently selected by our editors. Some may have been sent as samples for us to fiddle with, but all opinions in this article are our own. As an Amazon Affiliate we may collect a small commission or other compensation from the links on this page if you decide to buy something (that's how we stay in business). Reviews have been edited for length and clarity.
Types of Coolers
Camping coolers are available in three different types. There is a range of cooler types including hard cooler, soft cooler, electric cooler, or Styrofoam cooler. Below you will discover some examples of this category to help you select the best cooler for you.
Styrofoam coolers
This cooler is the basic type. It is used as an insulation material and is light and breathable. This cooler will be perfect for those that require a large cooler but are easily transportable. However, this means it cannot keep its temperature longer than some others can.
Hence, Styrofoam coolers might not be the best option for coolers for long periods. It is generally well served on a trip for just a short day, making it ideal for family barbecue events, parties or sporting events.
Electric Coolers
These coolers are portable mini fridges. They require a generator and a DC outlet to run the car. Electric coolers aren't cheap, but they can keep food fresh for an eternity as long as you have electricity.
Because they don't rely on ice to chill things down, you may use them at full capacity. If you happen to have access to a power source, a powered cooler is well worth the investment. You'll be able to store all sorts of perishables like milk, cheese, and even deli meats.
Soft Coolers
A soft cooler is generally a rigid bag that has insulation. Generally lighter, the soft cooler is carried over the shoulder, by hand, and sometimes even as  a backpack. Because they are small and cannot withstand temperature as much as hard coolers, soft coolers are usually an easy one-day solution.
These are great to use during a day hike, picnic or fishing trip. This type of cooler bag will often use small ice bags or small ice blocks to keep everything cold.
Hard Coolers
Hard-shell coolers are the main cooler types used in camp. Typically, these are either manufactured from fiberglass with stainless steel or plastic. Although fiberglass or metal cooling tanks are stronger, they're also heavy. Compared to soft coolers, hardsided coolers are heavier and have higher isolation capacity. Most can keep food cool for about five to eight days.
Consider These When Picking A Cooler
Insulation
The first thing to consider when comparing coolers is the degree of insulation. There are several types of insulation available in various pieces. Each one has its own level of effectiveness in keeping everything within a reasonable temperature. While there are numerous materials used to insulate the coolers, you should be more concerned with the foam's thickness. This is because the foam is what will provide the greatest level of insulation for your cooler.
Seal
If the seal on your cooler isn't up to par, all of the insulation in the world won't help. If warmer air from outside can penetrate into the cooler (because of bad sealing), it becomes completely pointless. The best kind of seal you'll find in a cooler is a lid gasket, but other sorts are acceptable as long as they're airtight.
Drain
Another aspect to consider when selecting a cooler is the drain. That's because there's really no avoiding moisture in your cooler. After all, if you're camping in Antarctica, ice won't stay solid - but you don't need a cooler to begin with. When the ice within your unit melts and spills into water, you'll need a dependable drain to get rid of it.
Handle
The handle of a cooler may appear to be little more than an unimportant addition, but you'll be surprised at how useful it can be. You'll be glad that you have an ergonomic handle to grip when your coolers are packed with ice, food, and bottles of water.
Capacity
Larger expeditions and bigger groups usually necessitate larger coolers. Make sure you have plenty of storage capacity by preparing a camping meal plan.
Durability
A rotomolded cooler is often the most durable cooler because to the absence of pressure points. Also check for a model with high-quality components, such as integrated hinges and rubber latches.
Features
Some features, such as built-in drink holders and bottle openers, are merely nice touches; others, like integrated tie-down points, drain plugs (with leashes), and locking lids, directly impact their performance.
How We Choose
It's not always easy to know which camping gear is the best. With all of the different camping gear out there, it can be hard to know which pieces are worth your investment. I have spent hours reading reviews and testing products so that you don't have to. After testing dozens of different coolers, I found the one that was perfect for all around use.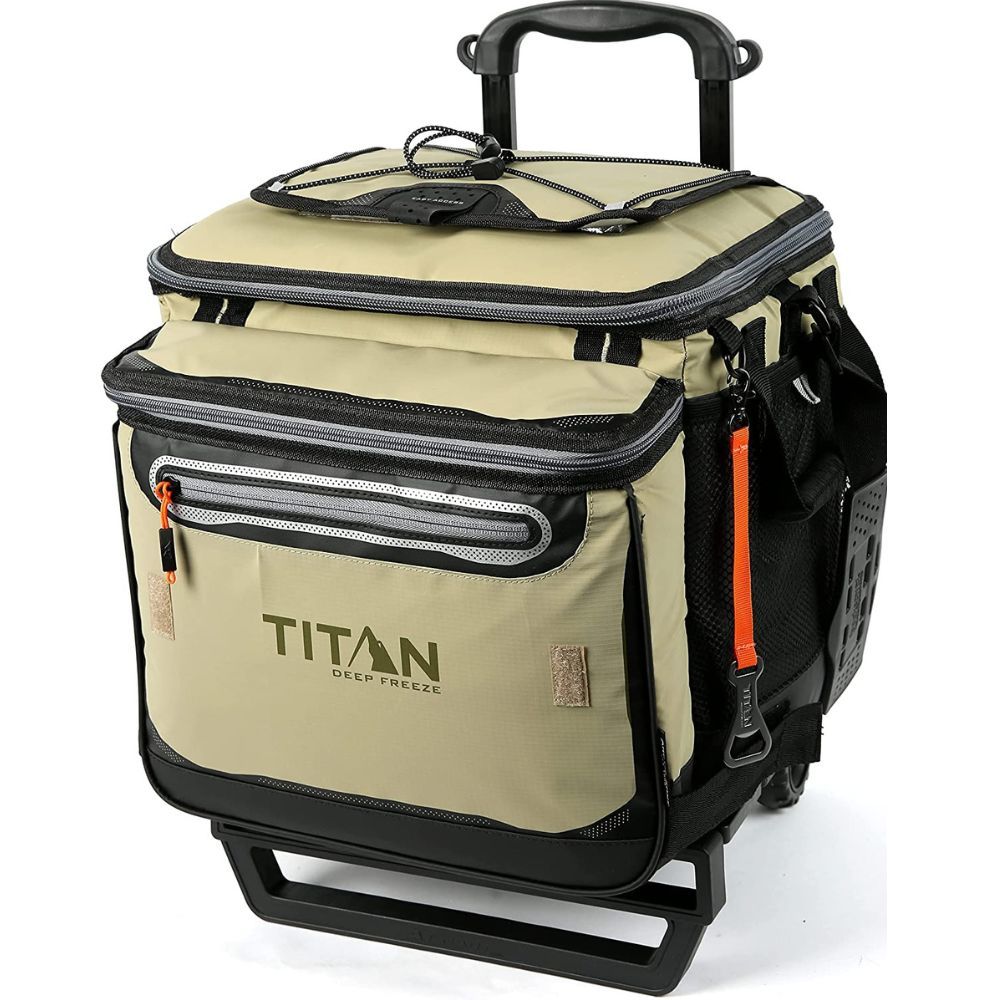 Best Soft Cooler
Arctic Zone Titan Rolling Cooler
Check Price on Amazon
Why We Love It
The Arctic Zone Titan Deep Freeze 60 Can Cooler the perfect wheeled cooler for keeping your food for extended periods of time - practically a portable mini fridge. The high performance insulation and triple layer ColdBlock base work together to create superior cooling (far better than similarly sized coolers), while the leak proof interior lining with Microban protects against bacteria and is easy to clean.
This soft cooler can hold up to 60 cans and has wheels for easy transport. Whether you're headed to the beach, a picnic, or tailgating, the Titan Deep Freeze 60 Can Cooler is a great option for keeping your food and drinks chilled.
What You Should Know
No matter where your adventures take you, the All Terrain Cart will make sure your food and drinks are close at hand. The expandable, extra wide base provides ample room for all your supplies, while the all terrain wheels make it easy to navigate this wheeled cooler over any terrain.
The retractable, telescopic handle ensures that the cart is always easy to carry, even when fully loaded. And the 100 lb./45.4 kg weight capacity means that you can pack everything you need for a weekend away. It weighs 7 pounds and is 15" by 15" by 19". So whether you're headed to the beach or the mountains, make sure you bring along the Artic Zone Cooler.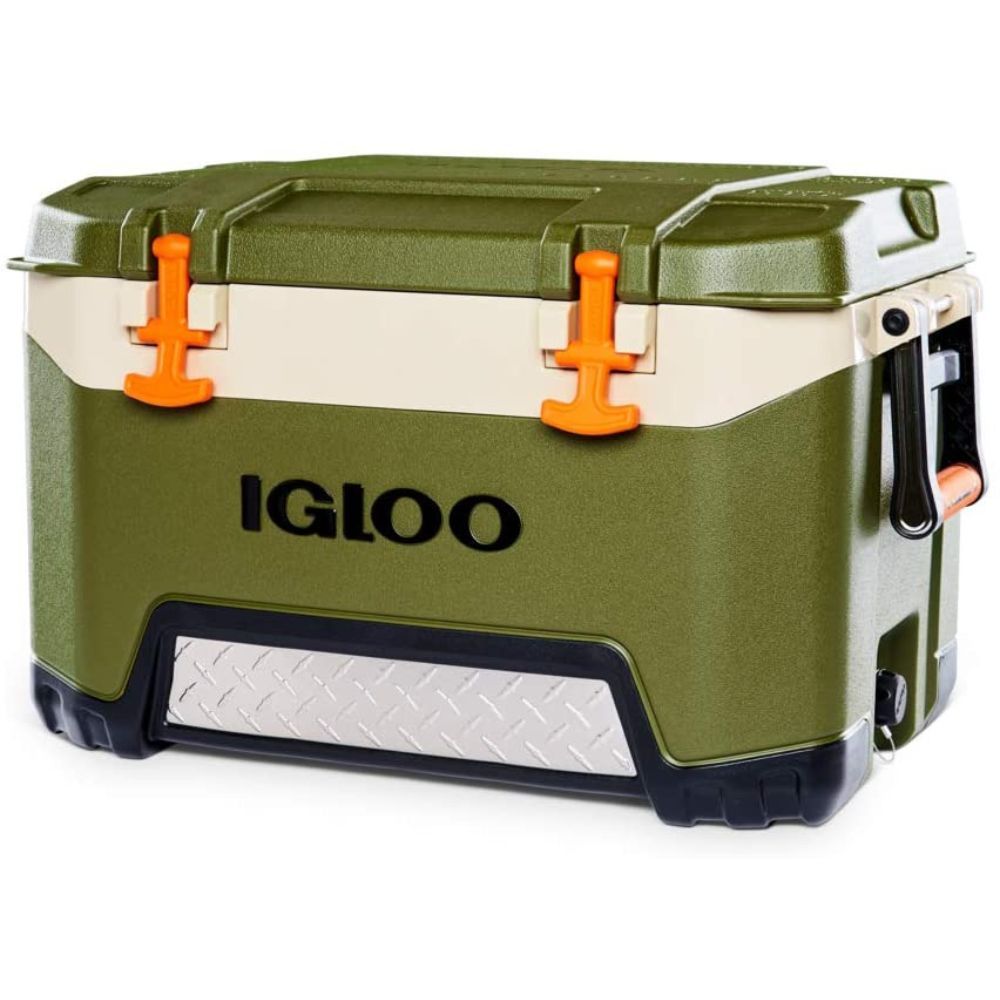 Best Light Cooler
Igloo BMX 52 Quart Cooler
Check Price on Amazon
Why We Love It
The Igloo BMX 52 Quart Cooler is the perfect choice for your next outdoor adventure. With its heavy-duty blow-molded construction and extra-thick foam walls, this camping cooler will keep your food and drinks cold for up to five days.
The rubber latches ensure that the lid stays securely closed, while the triple point grab handle with stainless steel reinforcement and rubber grip provides easy carrying. Whether you're headed to the beach or the campsite, the Igloo Cooler is a must-have for any outdoor enthusiast.
What You Should Know
The BMX 52 Quart Cooler is one of the most innovative and well-designed coolers on the market. It is perfect for any outdoor activity, from camping to tailgating. The cooler is extremely lightweight, yet it can hold up to 72 quarts of food or beverages. It weighs 16 pounds and is 32" by 17" by 17".
It also has a number of features that make it easy to use, including a detachable lid and a built-in drainage system. In addition, the cooler is made from high-quality materials that are designed to withstand the elements. As a result, the Igloo BMX 52 QT Cooler is an excellent choice for anyone who wants a reliable and durable cooler.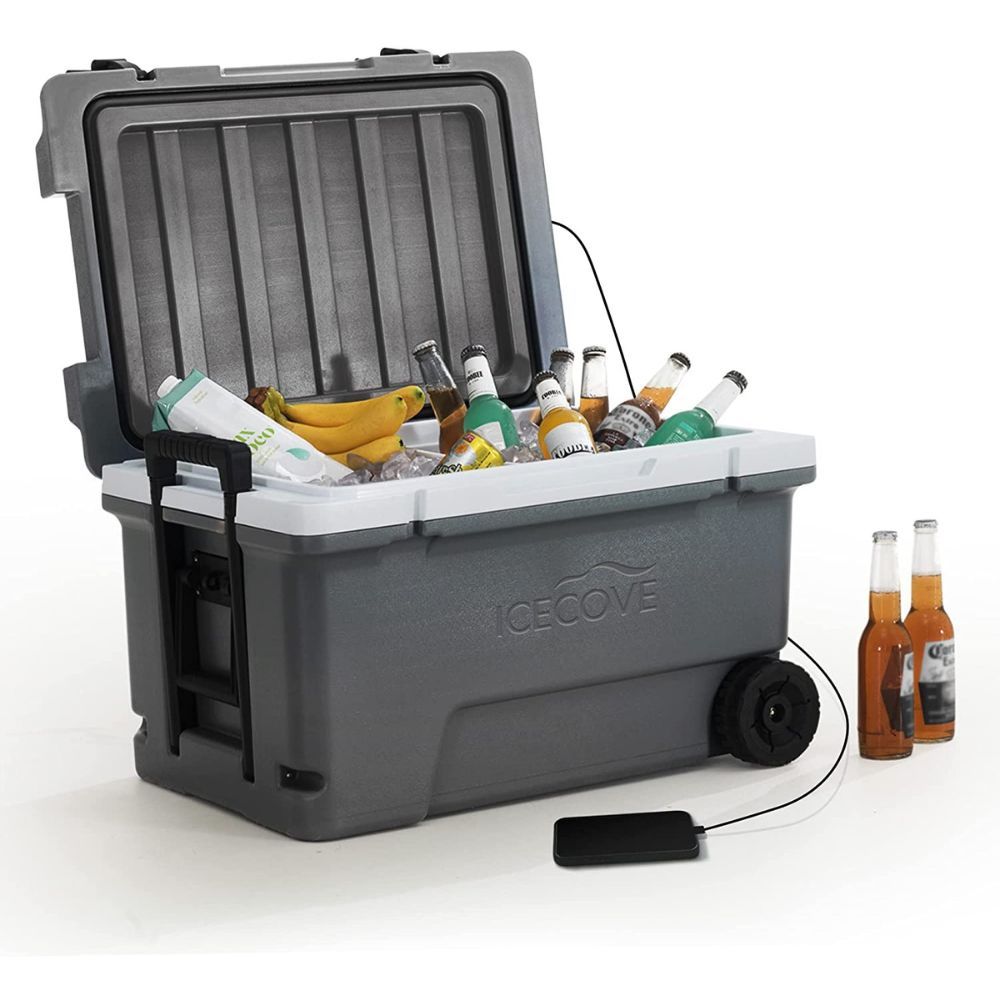 Best Solar Cooler
IceCove Norah Solar Cooler with Wheels
Check Price on Amazon
IceCove Norah Solar Cooler with Wheels
Why We Love It
Looking for an innovative solar cooler that keeps your food cold and also charges your devices? Look no further than the IceCove Norah Solar Cooler with Wheels. This one-of-a-kind camping cooler features a built-in solar panel that allows you to charge phones, tablets, and other devices while enjoying a refreshing cold drink. Additionally, its extra thick foam walls and lid and rubber latches provide outstanding ice retention (far better than other coolers), meaning your drinks will stay cold all day long.
What You Should Know
This cooler features a 5V 1A Solar panel for charging devices anywhere, not just one bottle opener but two built-in beer bottle openers and 4 on-top bottle holders that are convenient for placing your drinks, a recessed no-leak drain plug for easy cleaning. It weighs 23 pounds and is 25" by 18" by 16".
The internal tray is perfect for segmented storage, and the built-in bottle opener ensures you have everything you need to enjoy a drink. Plus, two durable wheels, which make it easily portable and ideal when you're camping or just want to take your food with you on a road trip!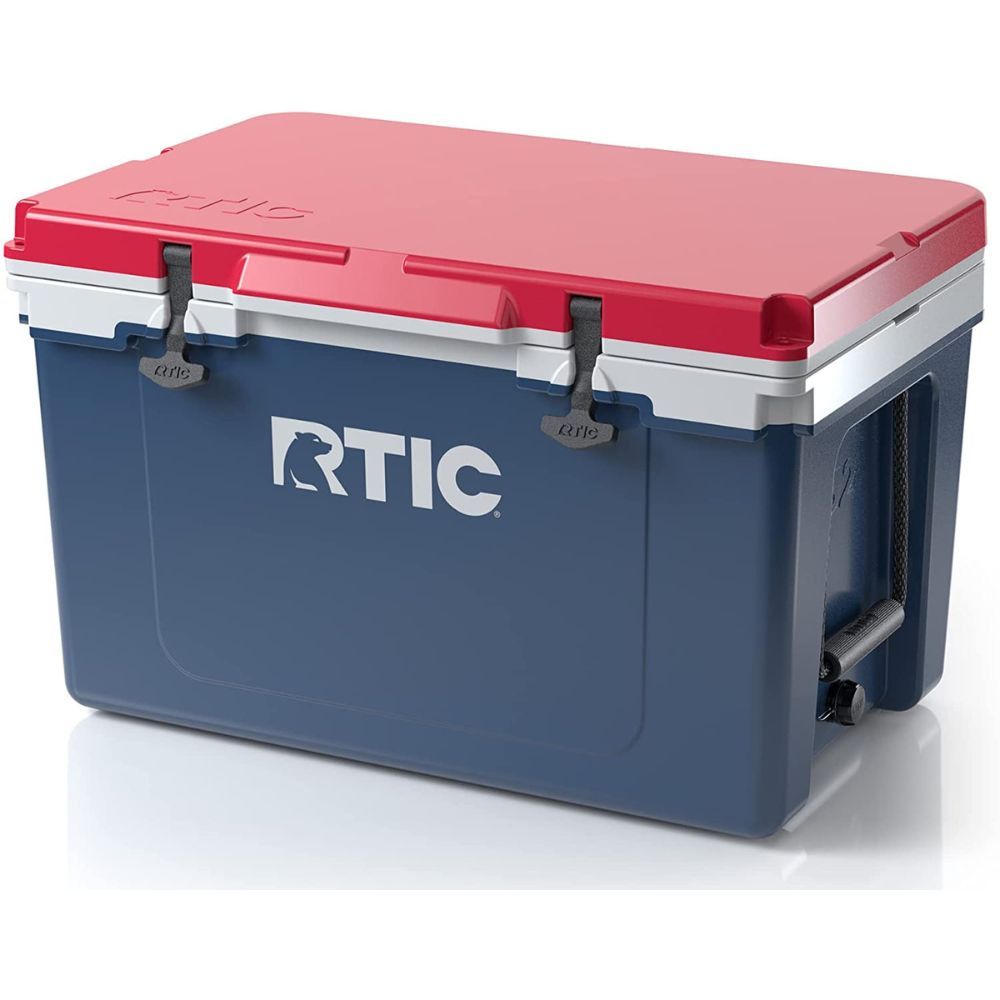 Best for Car Camping
RTIC Ultra-Light 52 Qt Ice Chest
Check Price on Amazon
Why We Love It
Looking to get away for the weekend but don't want to lug a heavy cooler around? Then you need the RTIC Ultra-Light 52 Qt Ice Chest! This product is designed and crafted with the latest cutting-edge technology, which means that it is both light and durable that is perfect for solo travelers who want to make the most of their mobility. With up to three inches of closed-cell foam insulation and rubber latches, this cooler will keep your ice, perishables, and vital supplies cold for days on end.
What You Should Know
Up to 3 inches of closed-cell foam insulation makes the Ultra-Light Cooler an extreme in portability and durability while maintaining long-lasting ice retention. This cooler has all the perks of a premium hard-sided cooler, including being 30% lighter and a dry storage basket to keep food out of the melted ice water.
Plus, it's true-to-size, so you can use it as a bench, non-slip step stool, tabletop, or extra cutting board. This cooler weighs 31 pounds and is 24" by 15" by16". Whether you're headed to the beach or on a camping trip, the RTIC Ultra-Light 52 Qt Ice Chest is a must-have.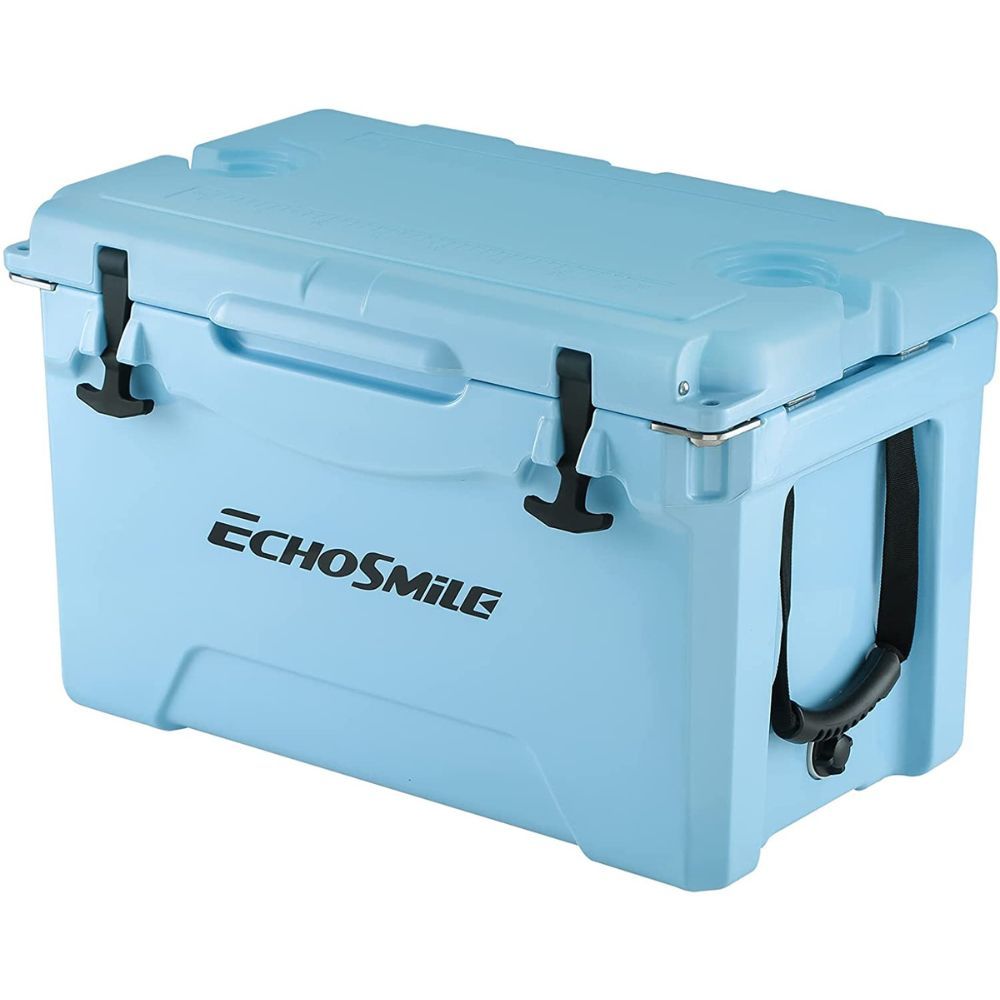 Best for Long Trips
EchoSmile Rotomolded Cooler
Check Price on Amazon
Why We Love It
Our EchoSmile Quart Rotomolded Cooler is one of the best coolers for camping on the market - equipped with 2 cups holders, heavy duty rubberized T-lock, 2 bottle openers, fish ruler, drain plug, 2 lockable corners, non-slip rubber feet for easy carrying, making it perfect for any outdoor and indoor activities like barbecue, golf game, camping, picnic, sea fishing and backyard parties.
What You Should Know
The EchoSmile Quart Rotomolded Cooler is a top-of-the-line cooler that features a polyurethane insulation layer that ensures excellent temperature retention, keeping your contents cold for up to five days. And with a 2:1 ice-to-contents ratio, you can be sure that your food and drinks will stay nice and chilled.
The EchoSmile Quart Rotomolded Cooler is also built tough, with a durable LLDPE (linear low-density polyethylene) construction that can withstand the rigors of outdoor use and heavy duty rubber latches to secure the cover. It weighs 18 pounds and is 24" by 15" by 16".
This cooler compares favorably to the Yeti Tundra 65 but at half the price. Plus, the company offers a 2-year warranty for this cooler.
So if you have any problems, feel free to contact them. If they can't solve your problem or you are not satisfied with the result, they will provide you a full refund. Don't miss out on this great deal!
Best Coolers for Camping FAQ
You want to buy a camping cooler for your next camping trip, but you're not sure which one to get. There are a lot of coolers on the market, and it can be hard to decide which one is right for you. We've compiled a list of the frequently asked questions about coolers to help make your decision easier.
How do you choose a cooler for camping?
When choosing a cooler for camping, the most important factor to consider is its size. You'll need a cooler that's large enough to fit all of your food and drinks, but not so large that it's difficult to transport.
Another important consideration is how well the cooler insulation keeps things cold. Some coolers have better insulation than others, so you'll want to choose one that will keep your drinks and food cold for the duration of your trip.
Lastly, you'll want to consider the price. Some coolers are more expensive than others, but generally speaking, the more expensive coolers will offer better performance in terms of size and insulation.
What are the different types of coolers to take camping?
There are a few different types of coolers that you can choose from. The most popular option is the standard cooler, which is great for keeping food and drink. If you're looking for a cooler that will keep your food extra cold, you might want to consider investing in a rotational ice cooler. This type of cooler has a rotating mechanism that keeps the ice in constant motion, which helps to keep everything cold.
Another option is a soft-sided cooler, which is perfect for those who want something lightweight and easy to carry around. Soft coolers often come with built-in insulation and have enough room for quite a bit of food and drinks.
What are the best ways to pack a cooler for camping?
There are a few things to consider when packing a cooler for a camping trip. First, you'll want to pack foods that won't spoil easily and that don't require refrigeration. This might include items like sandwiches, fruits, vegetables, trail mix, and jerky. You can also pack cold drinks and ice packs to keep food cold. Second, you'll want to make sure that everything is tightly packed so that the food stays cold.
Are there any disadvantages to using a cooler while camping?
Yes, there are some disadvantages to using a cooler while camping. Coolers can be expensive, and they require ice which can be difficult to find or keep cold. They can also be heavy and bulky, making them difficult to transport. Additionally, coolers can attract animals looking for food, which can be dangerous.
What is so special about YETI coolers?
YETI coolers are special because they are made of high-quality materials that make them durable and able to keep things cold for a long time.
A YETI cooler is made out of an insulation called "Rhino-Liner" that is designed to keep things cold for up to three days. They also have a heavy-duty, rubberized exterior that makes them resistant to dents and scratches making them a very durable cooler. Finally, the latches on a YETI cooler is designed to be waterproof, which means that they will stay closed even if they get wet.
Is an ORCA cooler good?
ORCA coolers are a popular brand of cooler that is well-known for its durability and insulation. Some people prefer ORCA coolers over other coolers because of their light weight and easy portability, while others find them too small for their needs. Overall, ORCA coolers are a good option for those who need a durable and lightweight cooler and compare favorably to a Coleman cooler.
What are some common complaints about coolers?
There are a few common complaints when it comes to coolers. Some people find that soft coolers don't keep food cold as they would like. Sometimes, melted ice pools in the bottom of the cooler, especially if it's not used properly.
They can take up a lot of space in a car or trunk and can be heavy to carry. Finally, some people find that coolers leak and can make a mess. Leaks can happen if the cooler is not sealed correctly or if the ice melts and then refreezes. These are just a few of the most common complaints about coolers.
Are there different sizes of coolers for camping?
Yes! You can find a variety of best camping coolers in different sizes to fit your needs.
If you're only going out for a day trip, you'll probably want a small cooler with enough room to hold about 12 cans of drink cold - a soft cooler works for short trips. For an overnight camping trip, you'll need a cooler that's at least 20 quarts so you can pack more food and drinks.
And if you're planning on spending up to three days or more on your camping trip, you'll need something even bigger - like a 60-quart cooler. There are also lots of different types of coolers to choose from. If you want something that will keep your food ice cold for an extended period of time, go with a rotomolded cooler.
How many years do coolers last?
The best cooler will usually last for about three to five years.
However, the life of a cooler for camping depends on how often it is used and how well it is taken care of. If you take good care of your cooler and only use it occasionally, then it may last up to seven or eight years. But if you use your cooler frequently and do not take care of it well, then it may only last for two or three years.
Causes why coolers get damaged?
Mishandling a cooler can cause the hinges to break or the seal to tear. Overloading a cooler can put too much pressure on the hinges or seal and cause them to break. And leaving a cooler in direct sunlight will cause the temperature inside to rise to dangerous levels, which can ruin food and beverages and even lead to bacteria growth.
Best Coolers for Camping for You
With all of the options on the market, it can be hard to know which is the best camping cooler  for your outdoor adventures. Hopefully, our list of the five coolers will help make your decision a little easier. Remember to consider what you'll need it for and how much space you have before going out to purchase the best cooler for you. Happy camping!