Camping is a great way to get outside and enjoy the beauty of nature, but it can be a bit uncomfortable if you don't have the right gear. Car camping pads are a great option if you're looking for something easy to transport and set up. They're usually larger and thicker than backpacking pads, so they're more comfortable to sleep on.
We've compiled a list of our top picks for sleeping pads, so you can find the perfect one for your next trip. Let's get started!
💡
As an Amazon Associate some of the links on this page may generate a small commission from purchases made through those websites, at no extra cost for you. This helps keep our site up and running so we can continue providing quality content!
How We Choose The Best Car Sleeping Pads For You
Trying to find the best car camping sleeping pads can be really tough. With all of the different brands and types of camping mattresses out there, it's hard to know where to start.
It's not always easy to find the right camping pad that matches up with your needs. You have to consider factors like size, weight, comfort, and durability when making your decision. Finding the best car camping sleeping pad can take a good bit of time and research, as well as some trial and error.
You'll be glad to hear that most of the hard work has been done for you! After reading through many, many reviews, I've compiled a list of the top 7 best sleeping pads on the market, so that you can get a great night's sleep on your next camping trip.
POWERLIX Sleeping Pads
Why We Like This Sleeping Pad
Introducing the Powerlix Sleeping Pad, the perfect way to get a good night's sleep no matter where you are. This innovative new sleeping pad features hexagon air cells that ergonomically support your pressure points, making for a very comfortable night's sleep.
The Powerlix Sleeping Pad is also made of durable, outdoor-grade materials like 75D nylon, making it 100% waterproof and perfect for any outdoor activities. So whether you're camping in the great outdoors or just looking for a better night's sleep at home, the Powerlix Sleeping Pad is the perfect solution.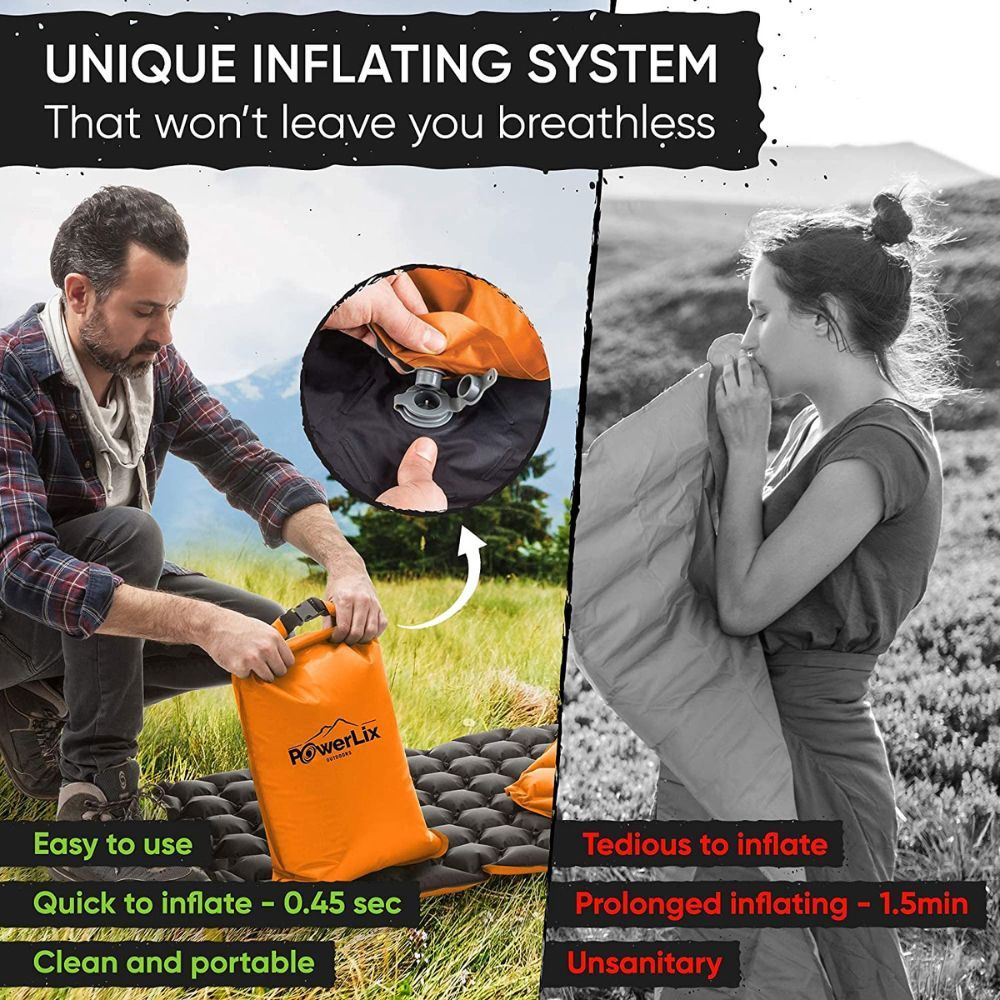 What You Should Know About the Powerlix Camping Mat
This is a very versatile sleeping pad! It comes with an inflating bag that not only inflates the mattress, but it can also be used for several different things, such as a pillow, a laundry bag, or a waterproof carry bag.
It also has a patch kit stitched into the top of the storage bag. This means that you'll always be prepared for whatever comes your way - whether it's a flat tire or a leaky sleeping pad.
The included carry bag also makes it easy to transport, so you can take it with you wherever you go. This sleeping pad is ultra-lightweight and packs extremely small. It also has thermal insulation so you don't feel the cold as easily. Whether you're car camping or backpacking, this sleeping pad will give you a good night's rest.
Check out these verified reviews on Amazon.
SAYGOGO SUV Air Mattress Camping Bed
Why We Like These Camping Pads
We especially like this air mattress for its comfort. The thick PVC material ensures that it will hold up to three people comfortably, and it's perfect for use both indoors and outdoors.
We've used it in the trunk of our SUV on long road trips, as an extra bed in the garden, and even as a makeshift sofa on the balcony. It's been a lifesaver on camping trips, and we always know we can rely on it to provide a comfortable night's sleep. The best part is that it inflates and deflates quickly and easily, so you can enjoy its many uses with minimal hassle.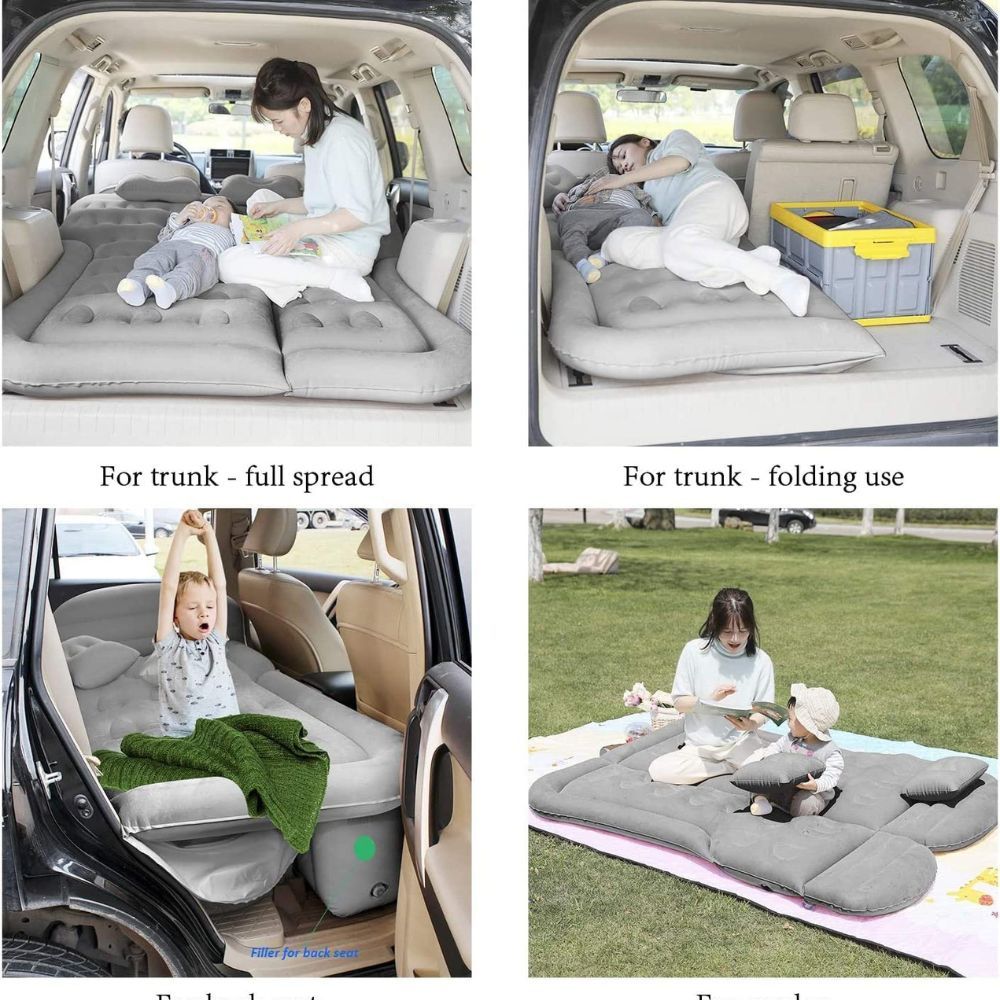 What You Should Know About SayGogo
Looking to make camping out in your SUV a more comfortable experience? The SAYGOGO SUV Air Mattress is just what you need! This mattress is made of high-quality, durable material and features a 6-chamber design for added stability. It's also compatible with most SUVs for a perfect fit. Plus, it comes with a built-in pillow and a long pier for added comfort. And when you're done using it, simply deflate the mattress and store it in the included carry bag. So don't go on another camping trip without the SAYGOGO SUV Air Mattress!
Check out these verified reviews on Amazon.
Heyoh Automatic SUV Air Mattress
Why We Like These Air Mattresses
We like this camping pad because it's ultra simple to use and easy to clean! The surface is made of a soft and durable fabric that's waterproof and breathable, so it's easy to wipe down if there are any spills.
Self-inflating pads are a no-brainer-  you don't have to worry about blowing it up yourself. Just open the valve on the self inflating pad and it will start to expand on its own. Unlike typical air mattresses, this only takes a few minutes for it to reach full size, so all of you car campers can be on your way to a comfortable night in no time.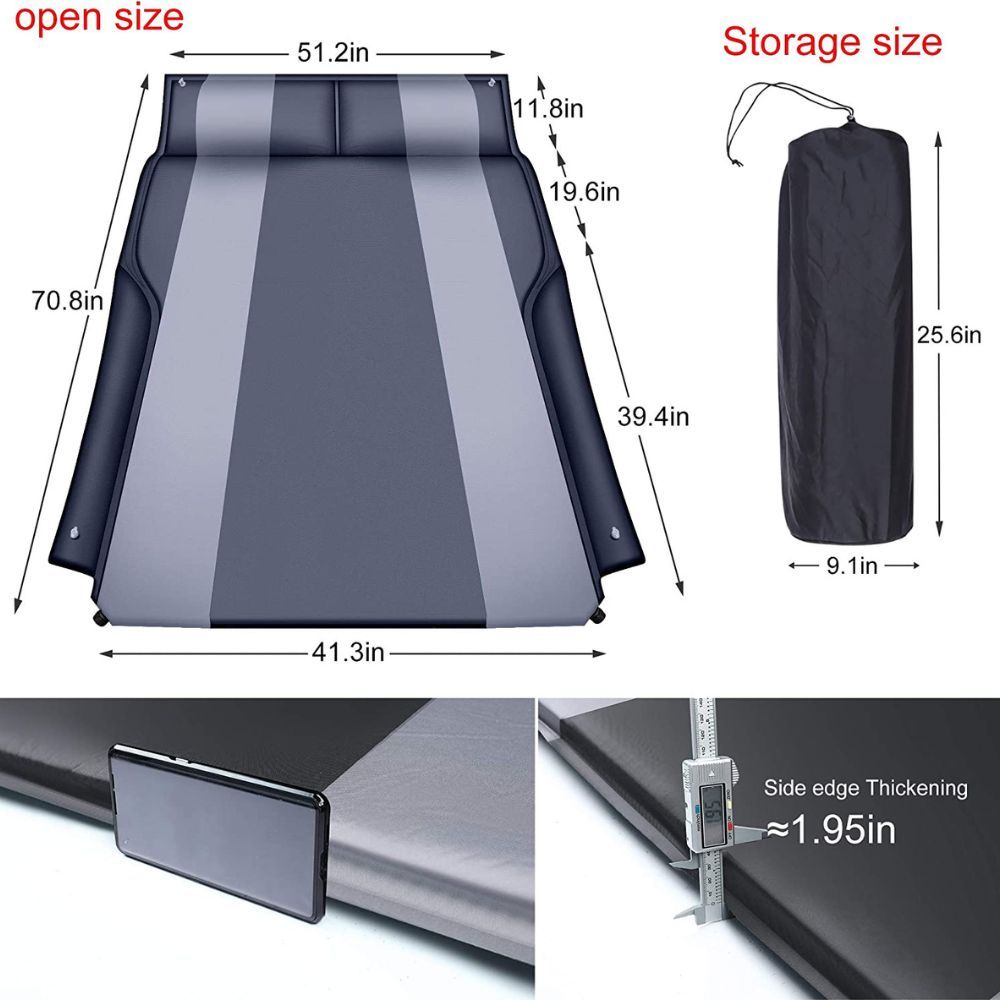 What You Should Know About This Camping Pad
These inflatable pads are perfect for camping, road trips, or anytime you need an extra bed. It features a built-in pillow for comfort, and an inflatable protection edge to prevent bumps and keep small items from falling off. The inner core is made of high-quality stretch cotton and 2 inches of high-density sponge for support and self-inflation. It's not as thick as a regular air mattress, but it doesn't have the same air leak problems and provides a more authentic camping experience. This is an air mattress you won't regret buying!
Check out these verified reviews on Amazon.
CAMP SOLUTIONS Double Sleeping Pad
Why We Like This Double Pads
We like this Ultralight Portable Roll-Up Double Sleeping Pad for a variety of reasons!
First, it's ultra lightweight and portable, making it easy to take with you on any camping trip. Second, it's large enough to accommodate two people, so you can share it with your family or friends. Third, it's made from high-quality materials that will keep you warm and comfortable all night long. Fourth, it's easy to set up and take down, so you don't have to waste any time fiddling with complicated gear. And fifth, it comes with a stuff sack carrying case for easy transport. So why not give this sleeping pad a try? We think you'll be glad you did!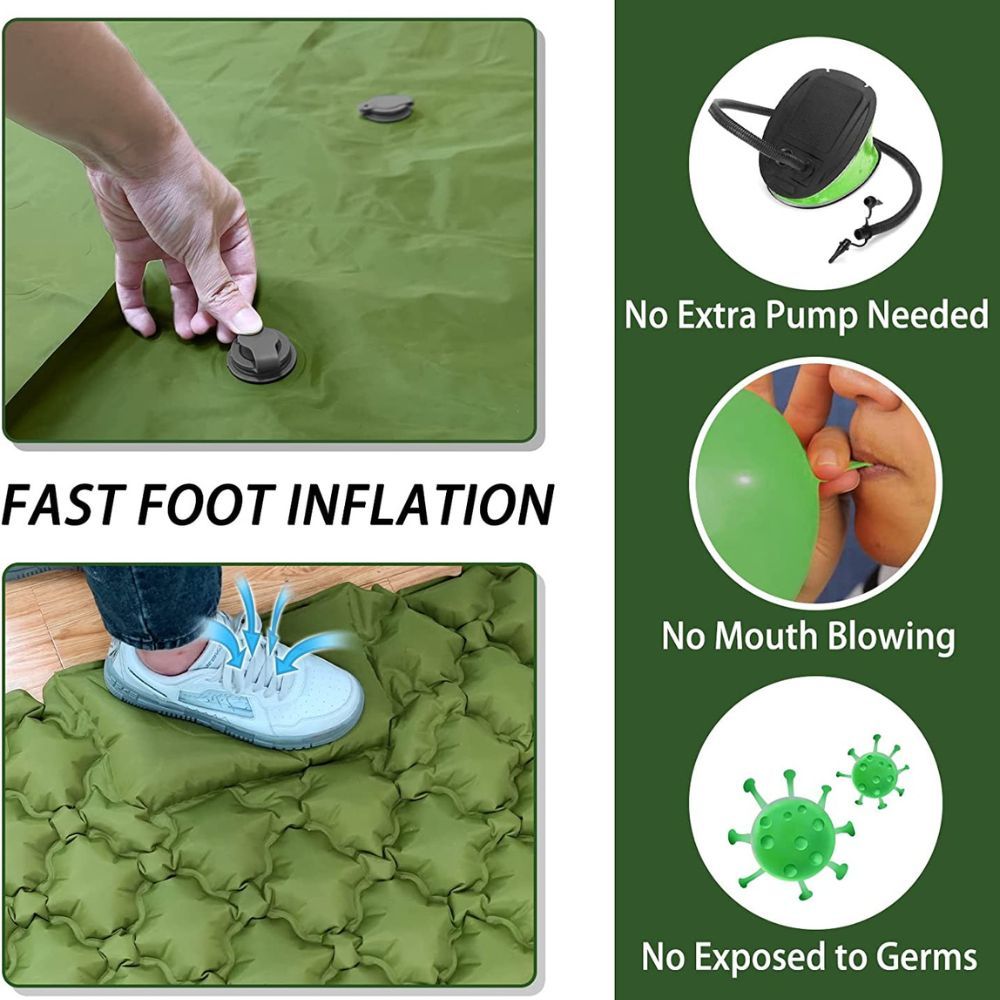 What You Should Know About These Air Beds
Car campers know how uncomfortable it can be to sleep without a good foam pad or air bed. When you need a comfortable and affordable way to sleep in your vehicle, the Camp Solutions Double Sleeping Pad fits the bill!
This self-inflating pad is big enough for two people and provides maximum comfort and warmth with its 2" thickness. The air cells disperse pressure points, providing better body support whether you're lying flat or on your side. And best of all, the built-in foot pump makes inflation a breeze - just stomp for one minute and you're done! No mouth inflation or heavy air pumps are needed. Even kids can do it!
Call them what you will - camping mats, self-inflating pads, foam pads, air pads, air mattresses, pads for car camping, foam pads - but the best camping mattresses for car campers are double sleeping pads. Other pads don't fit into your space with such precision or don't offer a double pad to make the most of the space you have.
So don't suffer through another sleepless night without a camping mat- make the Camp Solutions Double Sleeping Pad your go-to for a good night's rest under the stars.
Check out these verified reviews on Amazon.
SUITEDNOMAD Double Sleeping Pad

Why We Like These Double Sleeping Pads
We all love spending time outdoors, but sometimes roughing it can be a little too rough. If you're looking for a way to make your camping trips a little more comfortable, then you need the SuitedNomad Inflatable Sleeping Pad.
This versatile design is perfect for any nomad who is looking for an amazing car or tent camping experience. The bundle also includes a carry bag for compact packing and an air pumping bag to reduce inflation time.
There are a lot of car camping mattresses out there. But why do we love this sleeping pad? Here are just a few reasons:
1. The ergonomic design is perfect for back and side sleepers.
2. The two air chambers can be inflated separately, allowing you to use them as a single or as a double pad.
3. The durable material is built to last, so you can enjoy many comfortable camping trips for years to come.
While this sleeping pad is not self-inflating, you simply use the stuff sack as an air pump, so there's no extra equipment to keep track of. Having the option to inflate one side of the air pad is a nice feature, too.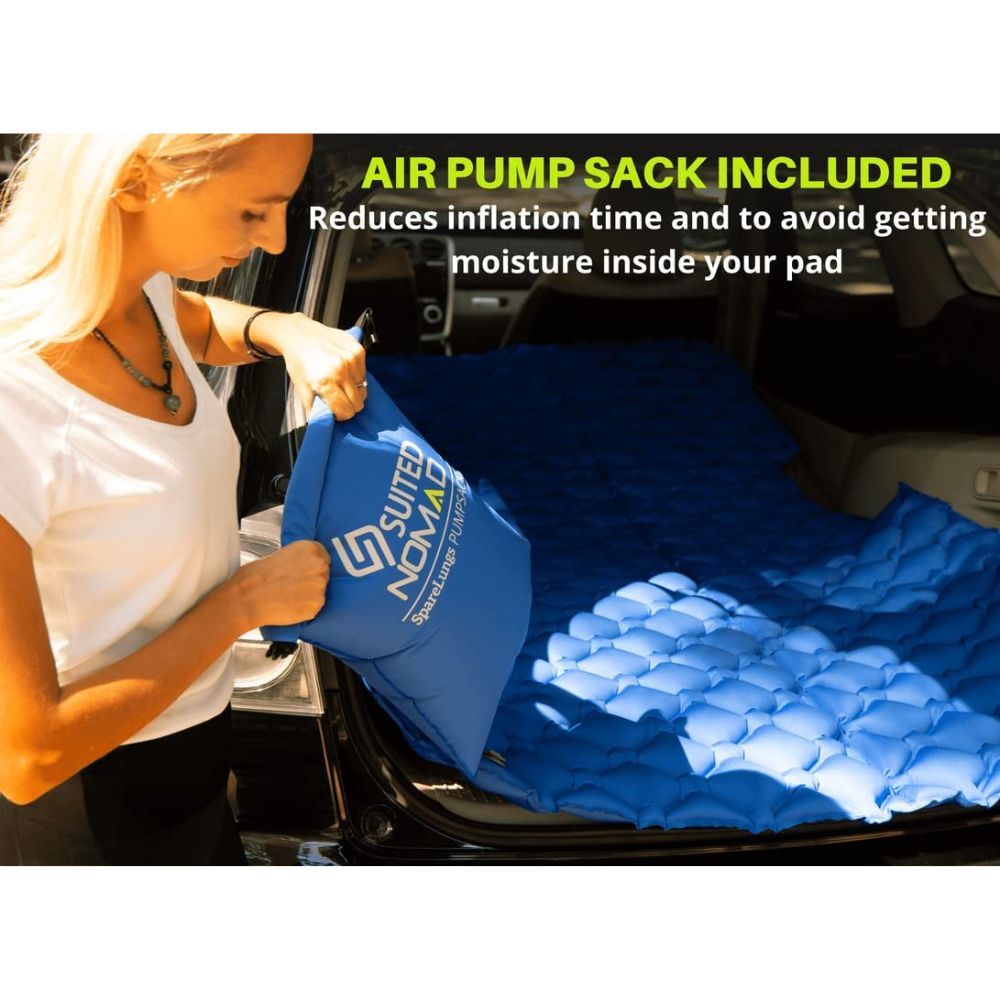 What You Should Know About This Camping Pad
The SuitedNomad Double Sleeping Pad is the most versatile and comfortable camping mattress on the market! This unique mattress features a special construction that is adaptive to all of your outdoor needs, ensuring a comfortable and restful sleep no matter where you are.
Measuring 76 x 47 inches, this mattress provides plenty of room for two people to sleep comfortably. It also folds up small for easy storage and transport, weighing only 2.9 pounds.
With other pads and inflatable air mattresses, you often have to worry about them losing air and becoming uncomfortable after only an hour or so. But the SuitedNomad sleeping pad has a unique air cells design for you to be sure that your hip bones will stay away from the cold ground all night long.
They pride themselves on providing only the highest quality products with a lifetime warranty and amazing US-based customer support. So, you can add this sleeping mat to your cart today knowing that you will be 110% satisfied with your purchase.
Check out these verified reviews on Amazon.
ABE Non-Inflatable Car Mattress
Why We Like This Car Camping Sleeping Pad
One of the best things about the ABE car bed mattress is that it can be folded up for easy storage when not in use. This makes it perfect for camping trips when you need to save space in your car. The mattress can be stored directly in the seat back or trunk, and it does not take up much room.
Another great feature of this sleeping pad is that it can be used on both sides - one side is made of leather while the other side is cartoon Oxford cloth.  The fabric is soft and smooth, making it perfect for a good night's sleep. The ABE car camping mattress is also lightweight and easy to carry, making it a great choice for camping or travel.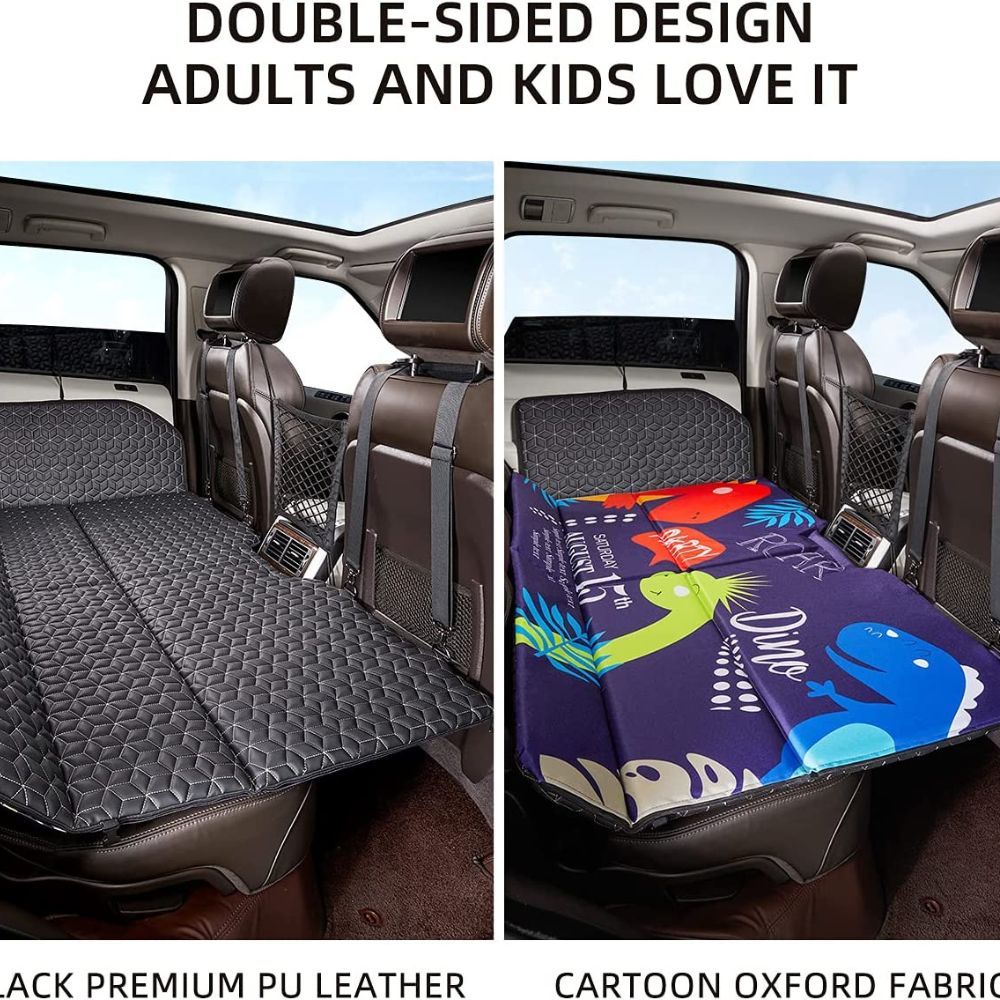 What You Should Know About It
Looking for a comfortable way to sleep in your car on long road trips? Look no further than the ABE Non-Inflatable Car Mattress! Camping mats aren't always the most comfortable since they tend to feel thinner than a self-inflating mattress. But we think you'll love these camping mats!
This mattress is designed to fit in most cars and SUVs with ease and features a non-inflatable design for easy setup. Seriously, sometimes it's great to not have to fill an air bed before going to bed. Simply spread it out in the back seat and buckle it up, and you're ready for a good night's sleep.
The included straps allow you to hang the mattress from the headrest pole for even more comfort, and there's no need to worry about air leaks thanks to the durable construction. And this closed cell foam pad offers enough cushioning for a comfortable rest anytime, anywhere.
So if you're looking for a quick, reliable, and comfortable car mattress, choose the ABE Non-Inflatable Car Mattress!
Check out these verified reviews on Amazon.
SAYGOGO Inflatable Car Air Bed
Why We Like This Air Pad
We like this sleeping pad because it's so easy to inflate and deflate. We don't have to worry about trying to find a place to blow it up or worrying about it being deflated when you wake up.
It comes with an air pump for car use only, and three different kinds of funnels. It only takes around four to six minutes to finish inflating, and three to five minutes to complete deflating. The instruction is included in the package, so you can get started right away!
What You Should Know About This Air Pad
Looking for a comfortable way to sleep on long car trips? SAYGOGO has the perfect sleeping pad to help you sleep soundly on your next car camping trip.
This mattress inflates in just minutes and provides a comfortable, spacious sleeping area in the back seat of your car. It can be used for home, for SUV, and the outdoors(tent camping, beach, etc). It even comes with two pillows and a functional pier that can be used to store shoes.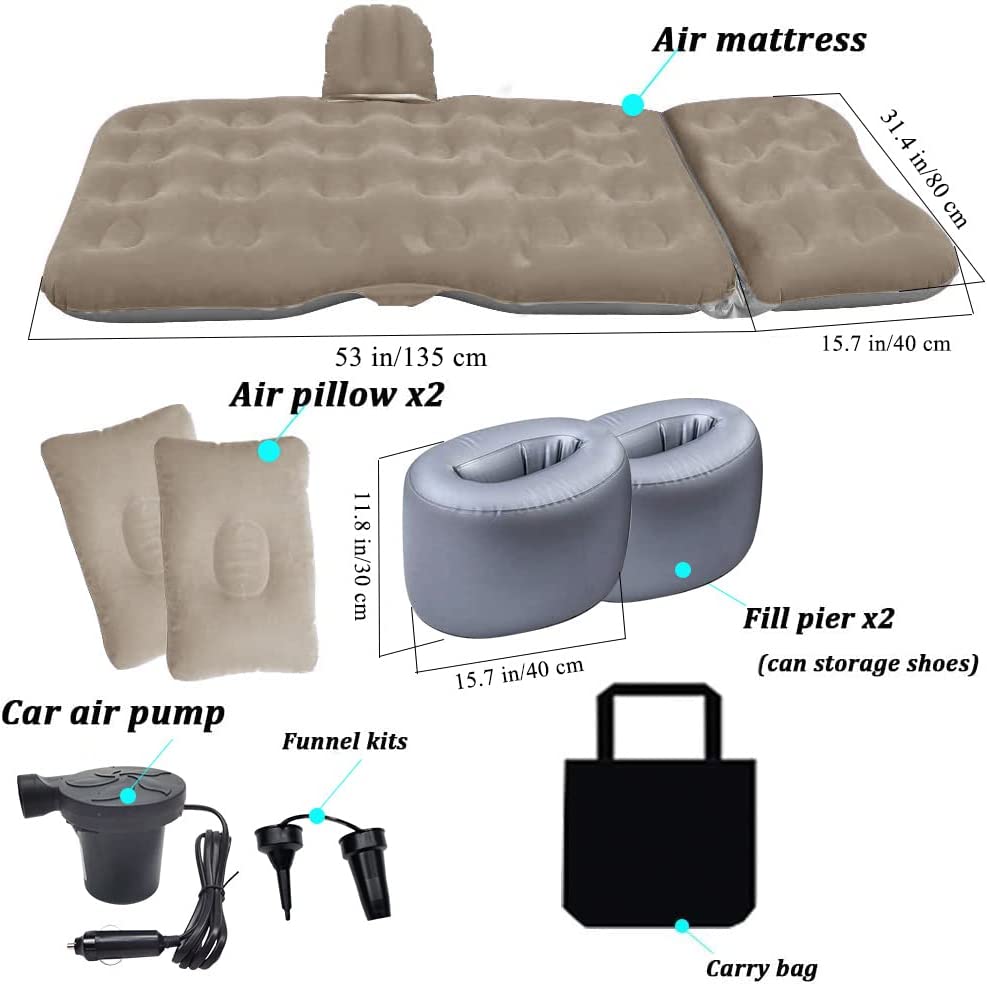 The air pump is easy to use and can be powered by your car's cigarette lighter. The whole set packs up neatly into the included carry bag, making it easy to take along on your next road trip. While not as thick as an air bed, and not self-inflating, this sleeping mat is a comfortable pad sure to give you a great night's sleep in your car.
Check out these verified reviews on Amazon.
Best Sleeping Pads for Car Camping - FAQs
Trying to choose the best camping sleeping pad can be really hard, especially if you've never done it before.  It's easy to feel overwhelmed when you're trying to pick out something as important as a foam pad. There are so many different types and brands available, how do you know which one is right for you?
We're here to help!  In this section, we'll answer the most common questions people have about choosing the best foam pads
What to consider when choosing the best sleeping pads?
There are a few things to keep in mind when choosing the best sleeping pads. First, consider the size and weight of the pad. If you plan on doing a lot of hiking, you'll want something lightweight and easy to carry. Second, think about the temperature rating. You'll want a pad that can keep you warm in cold weather, but not one that's so hot you'll be sweating all night. Third, consider the type of insulation. down or synthetic? Each has its pros and cons, so it's important to choose what's right for you. Finally, take a look at the price tag. Higher-end pads may have more features, but they don't necessarily mean they're better quality
What is the best size for a camping sleeping pad?
It depends on what you're looking for. If you want the most comfortable sleep, go for a full-sized pad. But if you're looking to save space and weight, there are plenty of options for smaller pads that will still give you a good night's sleep.
One thing to keep in mind when choosing sleeping pads is the climate you'll be camping in. A thicker, more insulated pad might be necessary for cold weather trips, while a lightweight option would be better for warmer climates. Planning your trip ahead of time can help make sure you choose the right size and type of sleeping pad for your needs.
Which sleeping bag shape is more effective for car camping?
There isn't really a definitive answer to this question because it depends on a variety of factors, such as the climate and the terrain where you'll be camping. However, in general, rectangular sleeping bags are more effective for car camping because they offer more room to move around than mummy-style sleeping bags. Additionally, a rectangular sleeping bag tends to be warmer and less constricting than a mummy-style sleeping bag.
What temperature is a sleeping pad good for?
Sleeping pad temperatures are measured in terms of the comfort range they provide. However, it's important to keep in mind that everyone sleeps differently and has different burial needs, so it's always best to err on the side of caution when choosing a sleeping pad. If you tend to sleep cold, choose a bag with a lower temperature rating. Conversely, if you tend to sleep hot, you may be able to get away with a bag that has a higher temperature rating.
As far as what temperatures sleeping pads are typically good for, they range anywhere from 20 degrees Fahrenheit all the way down to -40 degrees Fahrenheit. It just depends on how warm or cold of a sleeper you are
What are the best car camping mattresses?
Some of the best camping mattresses for different types of campers include:
- For light sleepers: an air mattress or a foam pad.
- For side sleepers: an inflatable pillow or a foam pillow.
- For back sleepers: an inflatable mattress or a foam mattress.
- For stomach sleepers: an air mattress or an inflatable pillow.
The Best Sleeping Pad For Car Camping
We hope this article has helped you learn more about choosing the best car sleeping pad for your needs. Whether you prefer self-inflating camping mats or closed cell foam pads that get folded up, now you know that it's totally possible to find sleeping pads for car camping and not sacrifice comfort!
Remember to consider all of the factors we outlined and click through the buttons above to check the prices on Amazon.

We wish you safe and happy travels!