Fan shopping got you down?
Don't worry, we've got you covered! In this blog post, we will review five of the best camping fans on the market. These fans offer long battery life, multiple settings for fan speed and a lighting feature, making them perfect for any outing.
So what are you waiting for? Purchase one of these amazing fans today and be prepared for your next outdoor excursion!
How We Choose the Best Fan
Ventilation is key when camping, but it can be tough to know which fan is the best for your needs.
It can be tough to know what to look for when you're trying to buy a fan for your outdoor adventure.
You want something that's going to keep you cool and comfortable, but you also don't want something that's too big or heavy to carry around with you.
We've done the hard work for you and read through thousands of reviews on Amazon to find the best camping fans for all kinds of campers. Whether you're looking for a portable fan for your car, your tent, or even backpacking, we've got you covered.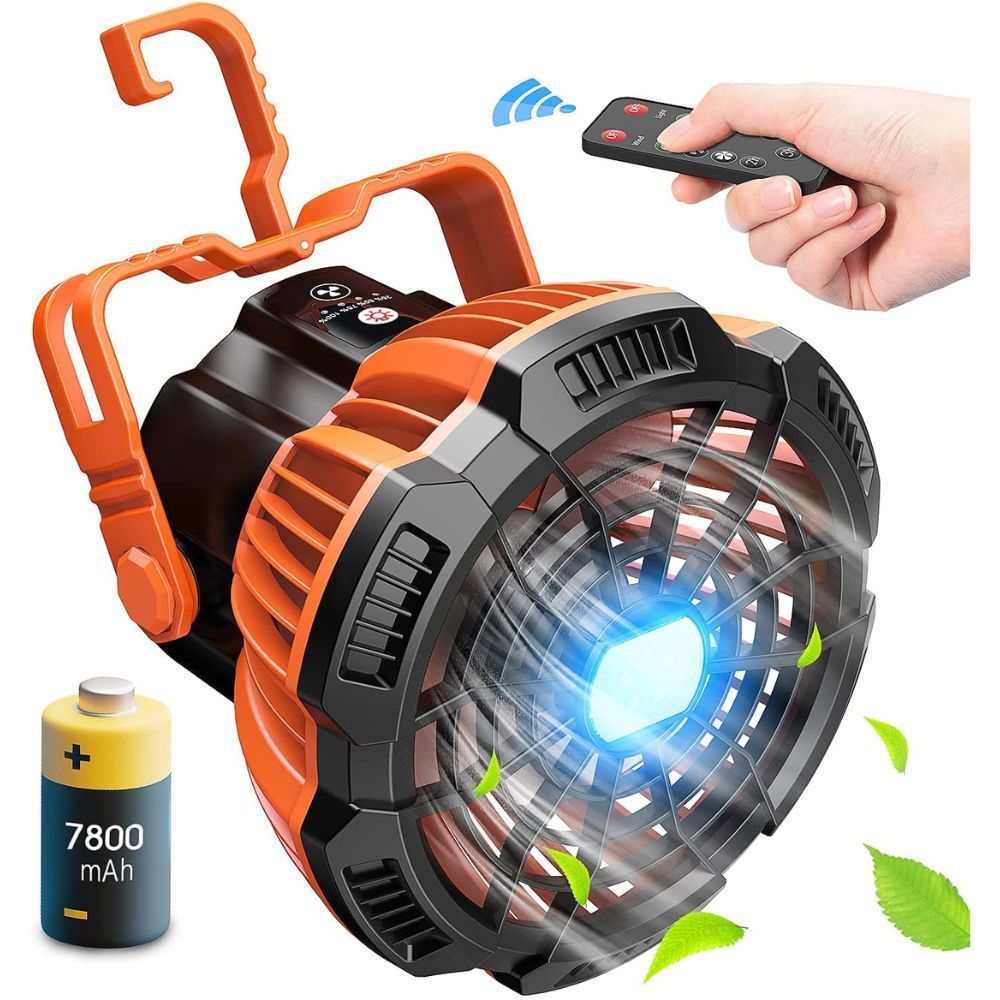 Nifty Remote
Drchop 7800mAh Camping Fan with LED Lantern
Check Price on Amazon
Why We Like It
We all know how important it is to stay cool and comfortable when we're outdoors, especially when we're camping. And that's where the Drchop fan comes in!
This amazing portable fan is perfect for making sure you always have a cool breeze, no matter what the temperature is.
The fan has adjustable speed and light settings, so you can customize it to your needs.
Plus, the fan comes with a great feature - a remote control so you can easily adjust the settings without having to get up.
And if that wasn't enough, it also has a long battery life so you don't have to worry about it running out of juice.
Plus, this rechargeable fan can pull power from the car or solar panel, so go ahead and enjoy the outdoors with this great fan.
What You Should Know
This portable fan has a 7800mAh large-capacity lithium battery. It features a three speed fan, three light level settings using cool led light, a remote control, it hangs from a hook as a ceiling fan, and can even recharge your phone via the usb port.
The hook folds up and converts the fan to a floor fan. Depending on the light/fan settings, it can work continuously for 8-25 hours.
This fan is perfect for any situation - it can be used both indoors and outdoors! It's lightweight and easy to carry, making it the ideal choice for any camper.
And with its long-lasting battery life, you'll never have to worry about running out of power.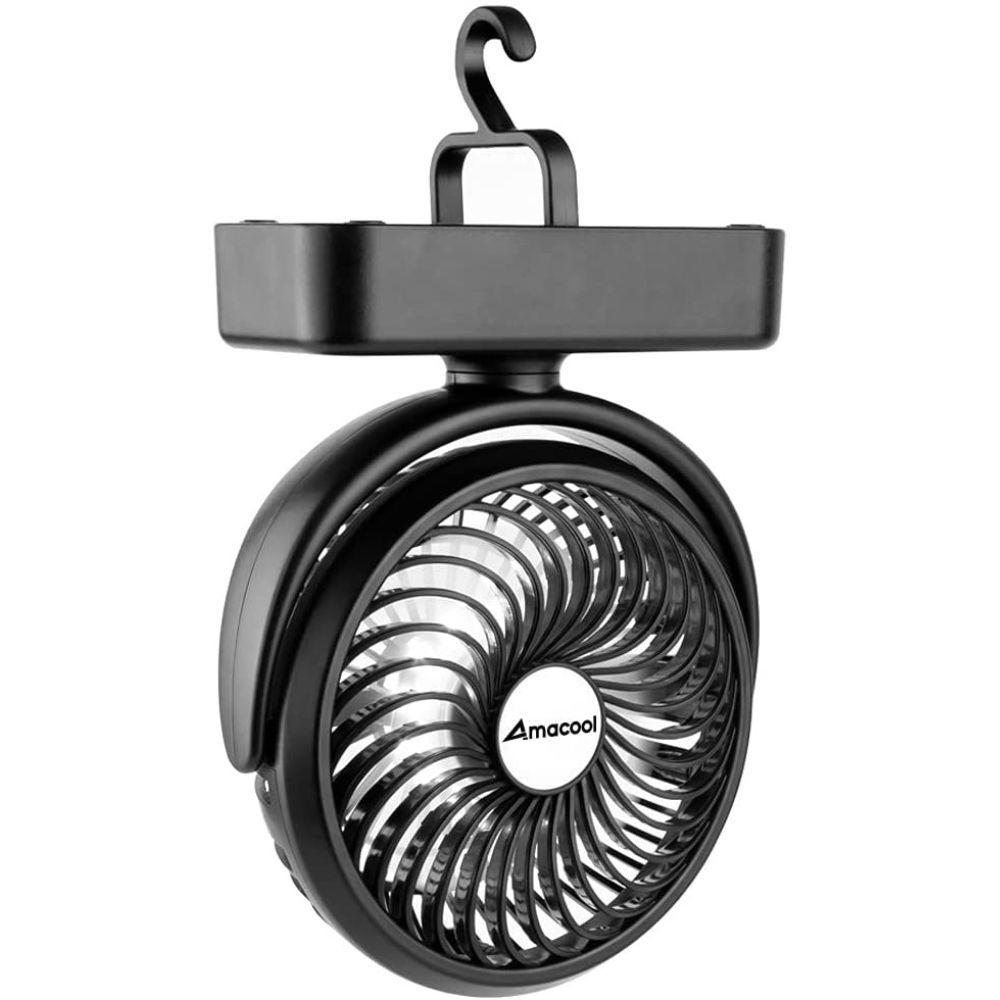 Super Compact Fan
Amacool Portable Camping Fan with LED Lantern
Check Price on Amazon
Why We Like It
The Amacool Fan is a great addition to any camper's toolkit. It's compact and light,  a fan and light combo making it easy to carry with you on the go.
And it recharges quickly, so you'll always have power when you need it. The long battery life means you can use it for hours on end, and the LED lantern is perfect for illumination in the dark.
Whether you're camping in the woods or just spending a day at the beach, this fan will keep you cool and comfortable all day long.
What You Should Know
This portable fan comes with a rechargeable 5000mAh lithium polymer battery with a battery life of up to 40 hours with fan only, 18 days with light only.
It features three fan settings (high setting, medium setting and low setting), three light level settings, weighs 11.3 ounces and is compact enough to fit in your backpack.
Led lights provide good lighting with little heat. It has a hook to hang in your tent as a ceiling fan or the hook can fold away and converts the fan to a floor fan.
Recharges from your car charger or a power bank using an USB adapter (does not use AC adaptor). A great buy for a small fan.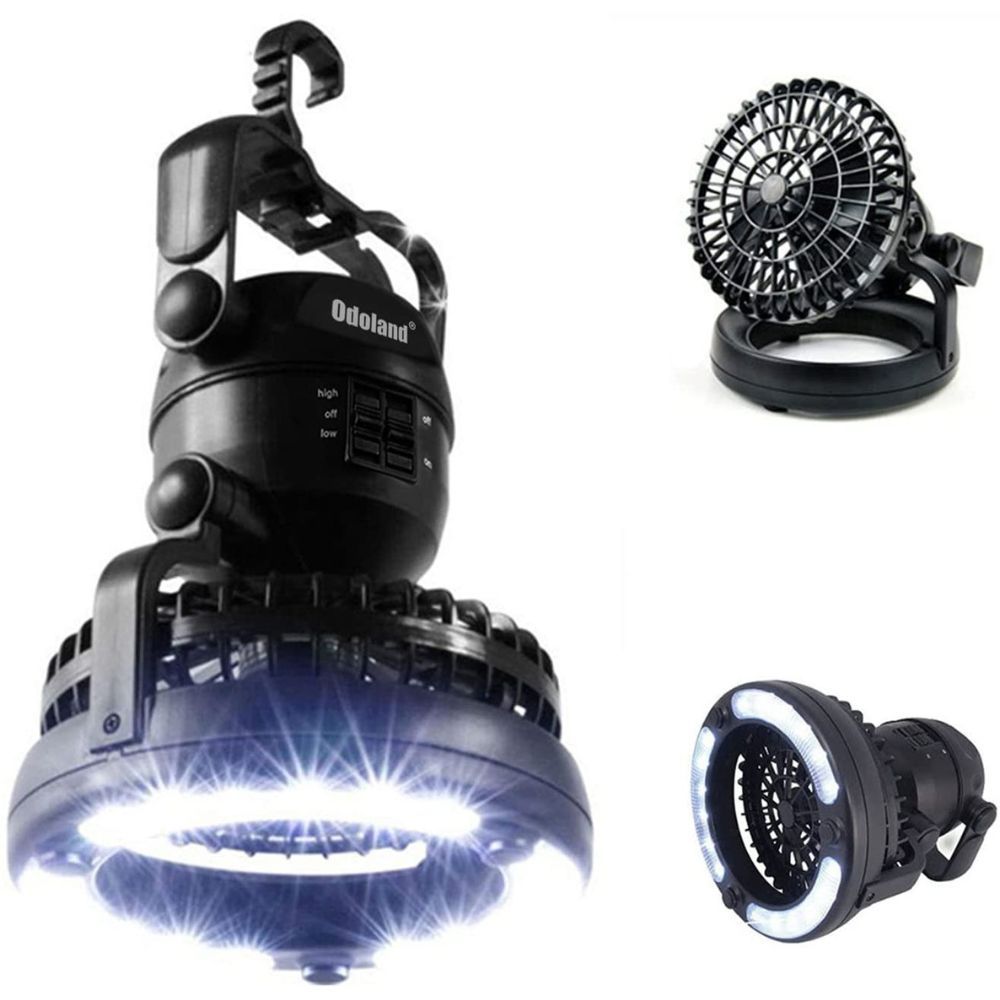 Longest Running Lantern
Odoland Portable LED Camping Lantern
Check Price on Amazon
Why We Like It
Are you looking for a tent fan and light combo that is both lightweight and adjustable? Do you want a portable fan that can provide perfect lighting for a large tent? If so, then the Odoland Portable LED Camping Lantern is the perfect product for you!
This battery operated fan is designed with a light level and fan direction that can be adjusted separately in vertical and horizontal directions, making it perfect for any situation.
The fan has two speed settings so you can always find the right setting for your needs.
Plus, this lantern is designed with a comfortable grip, making it easy to carry with you on your next outing.
What You Should Know
This fan will work for 30 hours in the fan's high setting, 50 hours in low-speed mode, and 16 hours in led light/fan low speed mode (energy saving mode) – making it the best fan around! Whisper quiet fan will not disturb your sleep.
Weighs 14 ounces, has 18 led lights and folds down into a compact size for packing. Plus, the 2 D cell batteries means you won't have to worry about running out of power in the middle of the night.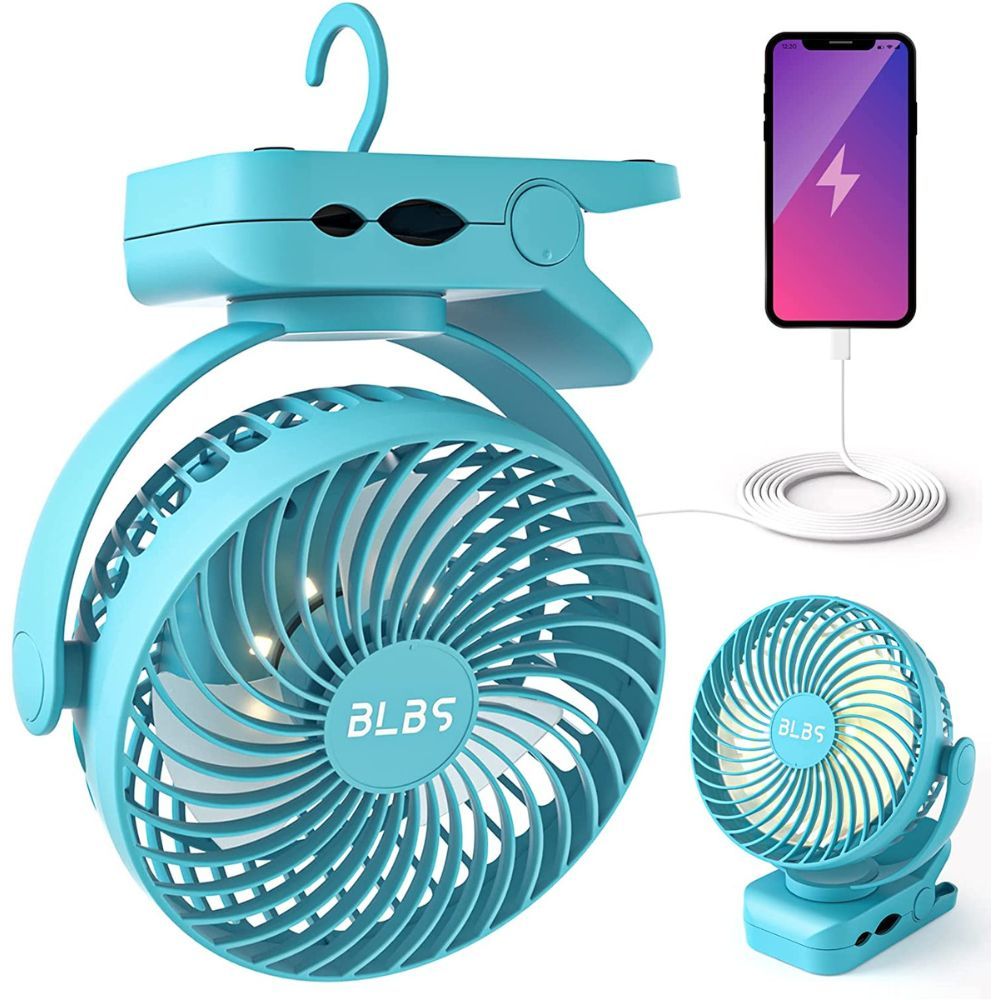 Largest Battery Capacity
BLBS Camping Fan with LED Light
Check Price on Amazon
Why We Like It
Introducing the BLBS fan - perfect for any trip! This portable fan is compact and light, making it easy to take with you wherever you go.
It has a hook to hang from and a clip to secure to a rod, making it versatile and easy to use. The led lights are bright and perfect for providing light in any situation.
The fan recharges quickly, making it always ready to use. Don't let the heat stop you from enjoying your camping trip.
What You Should Know
Looking for a great fan? Check out this 12000mAh rechargeable Lithium battery fan! The fan has three different settings (high, medium and low speed), so you can adjust the airflow to suit your needs.
And if you need a little light while you're camping, no problem! This fan has two light level settings, so you can choose just the right amount of illumination.
Plus, it only weighs 13 ounces, so it's easy to take with you wherever you go.
Recharges from your car charger or a power bank using an USB adapter (does not use AC adaptor).
So why not give this portable fan a try? We think you'll be impressed!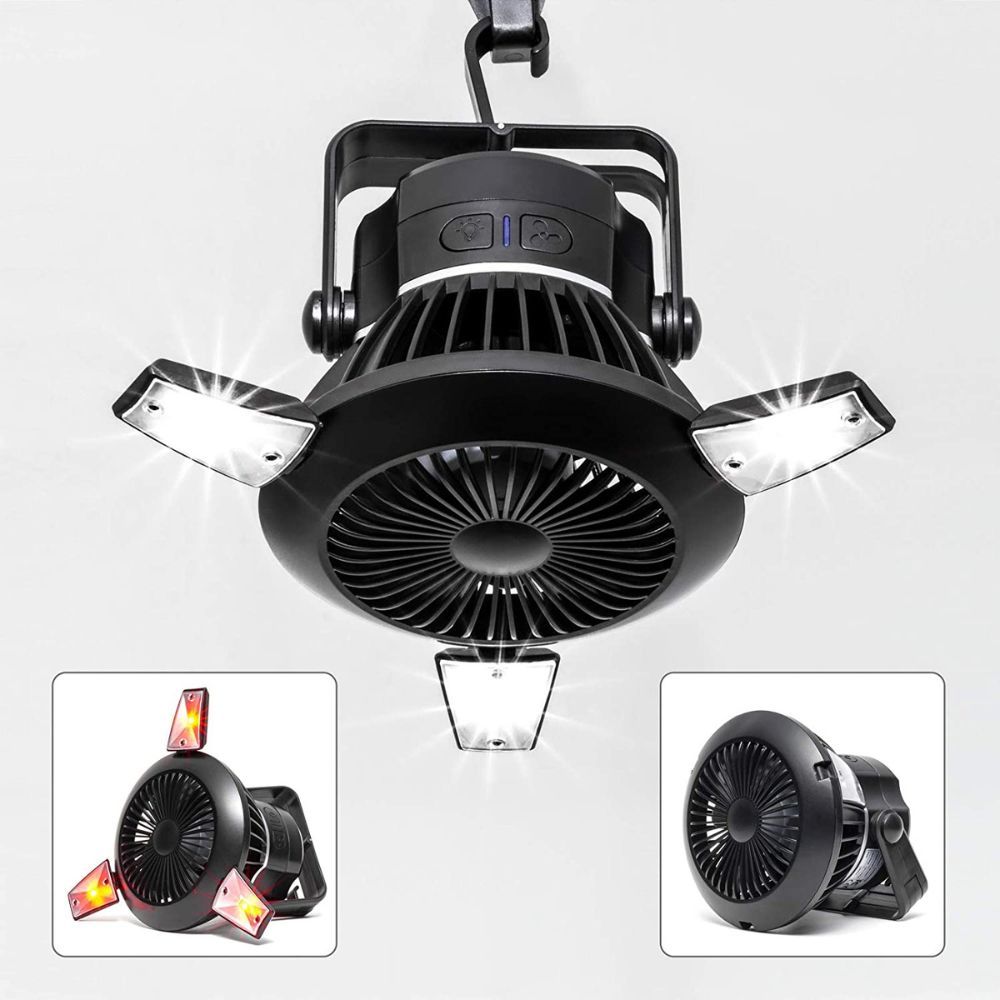 Wow! Solar Charging
BusyPiggy Solar Camping Fan with LED Lantern
Check Price on Amazon
Why We Like It
Looking for a reliable and affordable portable fan and light set for your camping trip that recharges from the sun? Look no further than the BusyPiggy Solar Fan!
This trusty rechargeable fan is perfect for car camping, picnics, and any other outdoor adventure.
Featuring a built-in solar charging panel, the BusyPiggy can be charged anywhere there's sunlight.
And with its long lasting battery life, you can enjoy cool, refreshing air all day long. Plus, the cool led light is perfect for reading or setting up camp after dark.
And if your phone runs out of juice, no problem! The BusyPiggy can recharge your phone too.
What You Should Know
This fan has four different speed settings, so you can choose the level of cooling you need. It also has four light settings, so you can adjust the amount of light in your campsite.
The fan power supply is a 4000mAh battery, and the red flasher emergency light is a great safety feature.
The fan weighs just 14 ounces, making it easy to carry with you on your next trip. The folding hook allows you to hang the fan and the hook can fold away and convert the fan to a floor fan.
The battery life ranges from 7 to 20 hours depending on usage level.
Buyers Guide
The best camping fans are the ones that best suits your needs. There are a variety of different fans on the market, so it's important to choose one that has the features you are looking for.
Airflow
If your airflow is greater, your air temperature can improve. A freestanding fan with a better airflow is better for bigger rooms. A large fan with larger blades can also move air. The fan's maximum width should cover 25 to 30 x 30 square meters.
Even then environment conditions and height are crucial to the operation. Typically small fans provide cooling localization.
A large fan affects how portable your fan will be. It's true that portable camping fans will never provide high air flow from an air cooled desktop or standing fan. The higher flow of air increases the electricity consumption and reduces battery lifetime.
Power source
Almost all camper fans use rechargeable  batteries. Avoid selecting battery operated fans that have unique battery power. In addition, you have the option to buy fans with AC adapters. So it can be used at your own convenience if required.
In an RV it's possible to connect to a wall or outlet. Batteries of a traditional kind are excellent for camping areas without electricity sources when using them for charging. However, you will need additional batteries. A rechargeable battery can also save money over long periods. Rechargeable  batteries able to charge via USB are useful when plugged into a charger.
Noise levels
During an outdoor camp, you can't use noisy fans. The noise level in the fan is dependent on motor quality. Moreover, the blades' design varies in material as well. Also, noise and air flow is related. High airflow often means greater noise. Metal blades generally work better but are noisier. Plastic blades can be a bit more fragile, but provide quieter operation.
Run time
What I should take into consideration is the duration of the charge provided by the battery. The life span of a fan depends upon the power and quality of the fan. Knowing your battery life can help you prepare for charging the fan. The battery usually runs between 6 and 24 hours depending upon the speed setting. You can read reviews and specs for more information on batteries.
Camping Fans FAQs
It can be hard to know which fan is the best for you. Camping fans come in all shapes and sizes, and it can be hard to know which one is right for you. We've compiled a list of the most frequently asked questions about fans to help make your decision easier.
Are tent fans worth it?
They can be, depending on the fan and how much use you plan to get out of it. Some models are designed with portability in mind, while others are meant to provide a steadier supply of airflow.
Consider your needs before making a purchase; if you just need something to keep you cool during a hike, a small, handheld model might suffice.
If you're car camping and want to keep the entire tent comfortable, then look for something that clips onto tent poles or produces more CFM (cubic feet per minute).
Conversely, if weight is your primary concern, there are plenty of ultra-lightweight models available.
Regardless of which type you choose, experts generally recommend bringing along extra batteries.
How do I get a fan while camping?
You can get a fan while camping by using a battery or solar powered fan.
A battery-powered fan can be run on either disposable batteries or rechargeable batteries.
Rechargeable batteries are a more environmentally friendly option, but they do require a bit of extra planning because you need to have access to an outlet to charge them.
Solar-powered fans don't require any batteries and are powered by the sun, making them a great option for camping trips where you won't have easy access to an outlet.
If you're looking for a cheaper option, there are also handheld fans that run on batteries.
These fans tend to be small and lightweight, making them ideal for carrying with you on camping trips.
Can you put a fan in a tent?
As long as there is enough ventilation, putting a fan in a tent should not be an issue. If the tent does not have enough ventilation, the fan could pull humid air from outside the tent and make things more uncomfortable inside.
If you are using an electric fan, make sure it is approve for outdoor use. lighter fans may tip over when the wind speed is high, so it's best to keep them inside the tents.
Where should a fan be placed in a tent?
There is no definitive answer to this question, as there are many factors to consider when deciding where to place a fan in your tent.
Some things you may want to take into account include the size and layout of your tent, the weather conditions you expect to encounter, and your own personal preferences.
Ideally, you should position the fan so that it will create a comfortable cross-breeze inside the tent.
However, this may not always be possible or practical, especially if you are using a smaller fan.
In general, it is best to place the fan near an opening such as a door or window so that air can circulate more easily.
You may also want to experiment with different positions to see what works best.
How do I keep my tent cool?
There are a few things you can do to keep your tent cool. First, choose a spot for your tent that's in the shade. If there's no shade, try to find a spot that has good airflow.
Second, open the doors and windows of your tent to allow air to circulate and take advantage of the prevailing wind speed.
Third, use a fan inside your tent to create even more airflow.
And fourth, if it's really hot outside, consider setting up an evaporative cooler inside your tent.
These simple tips should help you keep your tent cool and comfortable all summer long!
How long do camping fans last?
There is no definitive answer to this question as fans can last anywhere from a couple of months to a few years.
It really depends on how often you use the fan and how well you take care of it.
If you are using your fan regularly, it is important to clean it regularly to prevent dirt and dust from buildup which can eventually cause the fan to malfunction.
Most fans that are well-maintained can last for many years, while those that are not cared for properly may only last a few months.
Certain camping fans even come with a lifetime warranty, so be sure to check before making your purchase. In general, however, you can expect good camping fans to last several years if they are well-maintained.
How long do battery powered fans last?
A battery operated fan can last for a variety of different periods of time depending on the quality of the fan and the type of battery power used.
Some higher end fans can last up to 8 hours on a single charge, while others may only last for 1-2 hours. It really depends on the individual product.
However, generally speaking, most battery powered fans will need to be recharged after 3-4 hours of use.
How long do rechargeable fans last?
It depends on the fan. Some rechargeable fans last up to 18 hours while others only last for 6 hours.
It's important to consider the type of battery a fan uses before making a purchase. Fans that use nickel-cadmium or nickel-metal-hydride batteries tend to have a longer lifespan than those that use lithium ion batteries. However, traditional batteries need to be replaced as they lose their charge.
Rechargeable fans are a great alternative to traditional fans because they are more environmentally friendly and can save you money in the long run.
How can I cool my tent without electricity?
There are a few different ways to cool your tent without electricity. One way is to use a fan that uses batteries, which can help circulate air and keep you cool.
Another option is to put ice packs or cold water bottles in your sleeping bag, which will help to cool you down as you sleep.
You can also try opening the windows and door of your tent to allow fresh air to circulate, or using a tent fan if you have one.
Finally, be sure to drink plenty of fluids and stay hydrated, as this will also help keep you cool.
Are rechargeable fans worth it?
Rechargeable fans are definitely worth it because they save you money in the long run. They also help reduce environmental waste, since you don't have to constantly purchase new fans.
Rechargeable fans come with a built-in battery that can be charged using a USB port. When the fan is not in use, you can simply store the battery inside the fan until you need it again. This saves you from having to purchase new batteries all the time. Traditional batteries on the other hand need to be replaced frequently as they lose their charge.
Another great thing about rechargeable fans is that they're typically very quiet. So if you're looking for a fan that won't keep you up at night, then a rechargeable fan is a good option to consider.
What is a good emergency lantern?
There are many different types of emergency lanterns on the market, so it really depends on your specific needs as to what would be the best option for you.
If you just need a basic light source that will help you find your way in the dark, then any standard LED light should suffice.
However, if you need something that is more durable and can withstand extreme temperatures or wet conditions, then you might want to consider a lantern that is specifically designed for emergency use.
One option that is popular among preppers and survivalists is the SE Survival Lantern. This lantern is constructed from tough ABS plastic and can endure both high and low temperatures, as well as contact with water. It features a bright LED light with three different lighting modes, and can run for up to 12 hours on a single charge.
Another popular option is the UCO Candle Lantern. This lantern is made from durable stainless steel and has a glass globe that protects the flame from wind and rain. It also has a built-in candle snuffer, so you can extinguish the flame without blowing it out. This lantern can run for up to 30 hours on a single charge.
No matter which emergency lantern you choose, be sure to test it out before you need to use it in an actual emergency situation. This will help you familiarize yourself with its features and ensure that it is working properly.
Is there a light that doesn't need electricity?
Yes, there are actually several types of lights that don't require electricity to function.
One type is called a solar-powered light. These lights rely on the sun to recharge their batteries during the day, and then they provide light at night.
Another type of light is a wind-up light. These lights have a built-in generator that you can wind up to charge the battery. Once the battery is charged, the light will turn on and provide illumination.
There are also chemical lights that use a chemical reaction to produce light, such as glow sticks. These don't require an external power source, though they do need some form of activation (usually shaking) to get started.
Finally, there are Moonlight lamps which utilize solar power to charge during the day, and then use that stored energy to provide light at night. These are great for camping or emergency situations where there is no electricity available.
Who makes the brightest rechargeable flashlight?
The Imalent MS18 is a rechargeable flashlight that is known for its brightness. It has a maximum output of 100,000 lumens and can reach a distance of up to 1350 meters.
It also features a microchip-controlled power supply that provides consistent illumination and prevents the flashlight from overheating.
This flashlight is perfect for anyone who needs a powerful light source for outdoor activities such as camping, hiking, or hunting.
Do LED lights produce heat?
LED lights actually produce very little heat compared to traditional incandescent bulbs. This is because they don't have a filament that needs to be heated in order to produce light.
Incandescent bulbs work by passing an electric current through a filament, which heats up and produces light. However, this process also generates a lot of heat as well. In fact, about 90% of the energy used by an incandescent bulb is actually wasted as heat.
LED lights, on the other hand, use a different process to produce light. They work by passing an electric current through a semiconductor, which emits photons (light particles).
This process is much more efficient than incandescent bulbs, and as a result LED lights generate very little heat. So if you're looking for a light source that won't heat up your room, LED lights are a great option.
Best Camping Fan for You
So, what is the best camping fan for you? The answer to that question depends on your needs and preferences. We've provided a few of our favorite options.
The BLBS fan brings with it the largest battery capacity and the longest run time.  The Drchop fan has the second largest battery capacity and a nifty remote.  The Amacool fan has the next largest battery capacity and is super small.
The Odoland fan features two speed settings with an energy saving mode that gets you 50 hours of fan use on one charge and is an excellent value.  And finally, the BusyPiggy fan has an integrated solar charging panel and converts to a red emergency flasher.
But don't stop here – be sure to check out Amazon's massive selection of camping fans to find the perfect one for you. And when you do, make sure to tap the button below to check the price and see if it's eligible for free shipping. Happy trails!
💡
Some of the links on this page may generate a small commission from purchases made through those websites, at no extra cost for you. This helps keep our site up and running so we can continue providing quality content!