Looking for a new tent to take on your next outdoor adventure?
Here you'll find a list of the best four-season tents that will meet your expectations - and exceed them - no matter what season. Read on to discover which budget tent offers the weather protection, spacious interior, and sturdy pole structure to keep you camping year-round.
You won't have to worry about being cold or wet while camping anymore – these tents will keep you warm and dry no matter what the weather throws at you. All the tents we review here are chosen with a tight budget in mind and designed for harsh weather. A premium tent doesn't have to break the bank.
💡
As an Amazon Associate some of the links on this page may generate a small commission from purchases made through those websites, at no extra cost for you. This helps keep our site up and running so we can continue providing quality content!
How We Choose The Best Affordable All-Season Tent
It can be tough to find a reliable, affordable all-season tent that will last. A budget tent sounds great but you may be wondering if they skimped on quality and build. And when it comes to winter camping you really don't to find out that your outdoor gear is anything less than what it claims to be.
A lot of people end up buying tents that are either too expensive or don't hold up well in different weather conditions, especially if they are purchasing on a tight budget.
After combing through hundreds of reviews on Amazon, we've narrowed down a list of budget tents for a variety of needs. So whether you need to find the best budget backpacking tent, a super lightweight tent, a double wall tent, a good snow loading capacity, or a tent body that can withstand strong winds and inclement weather - we know you'll find an excellent option reviewed here!  Read on and let us help you find the best budget 4-season tent for you!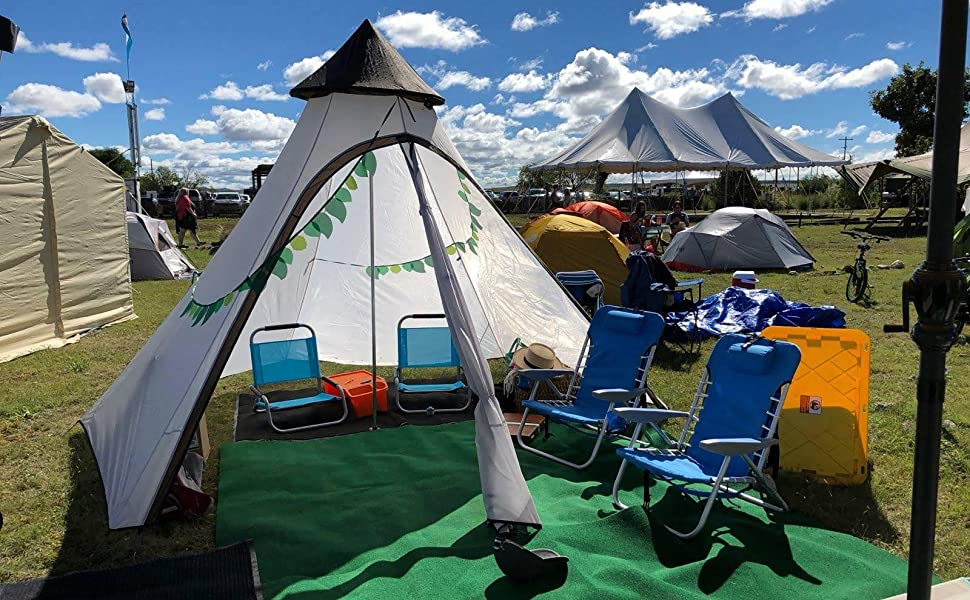 Vidalido Dome Camping Tent
Check The Price On Amazon
Why We Love It
This dome tent has a 5-6 person capacity and the double-layered walls are waterproof and have an anti-UV coating. The high-quality materials are built to last and the double wall tent body has the dimensions l x w  of 12' x 10'.
With a large interior space and plenty of headroom, this budget tent is perfect for family camping trips or even just a weekend getaway. It also features a removable dividing wall that can be used as a dressing room or temporary bathroom. Plus it can be set up or torn down in just a few minutes.
So whether you're looking for a tent to take on your next big trek or just a simple weekend getaway, this dome tent is ready for some casual winter camping, light snow, moderate winds, and year-round adventures.
What You Should Know About It
As anyone who has camped before knows, ventilation is key to a comfortable experience. Not only does it help to regulate temperature and prevent condensation, but it also keeps biting insects out. So the 2000D PU 3000MM high-density mesh structure design is an especially helpful feature.
Nylon polyester mesh doors and roofs allow for great views and excellent airflow while keeping bugs out. It's an ideal design for a family budget tent with tons of interior space - a large floor area means you can fit sleeping bags and packs and still move around.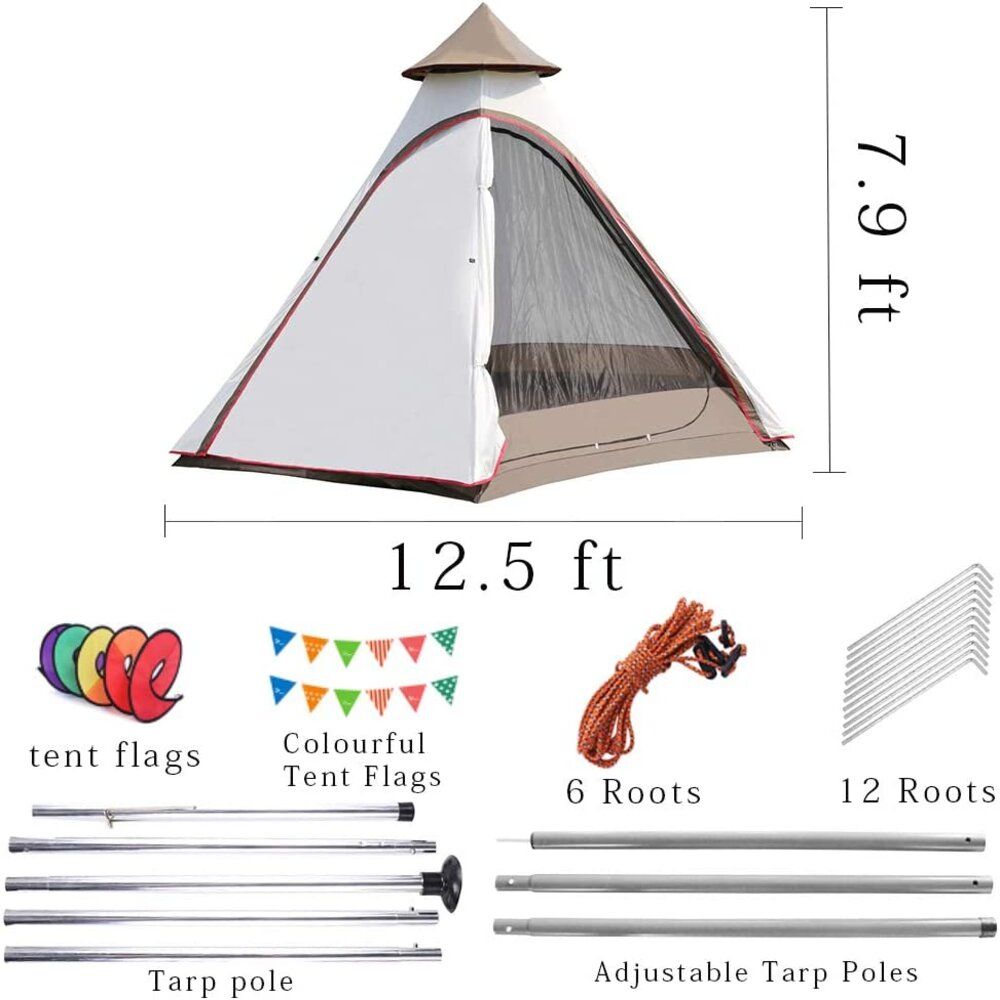 Other tents can take a while to set up, but you can do this in 5 minutes or less! The tent pole sleeve design allows for an undemanding and straightforward setup. And a convenient carrying bag makes the tent easy to be carried around or stored away.
So if you need the best budget 4-season tent for your family, give the Vidalido dome tent a try.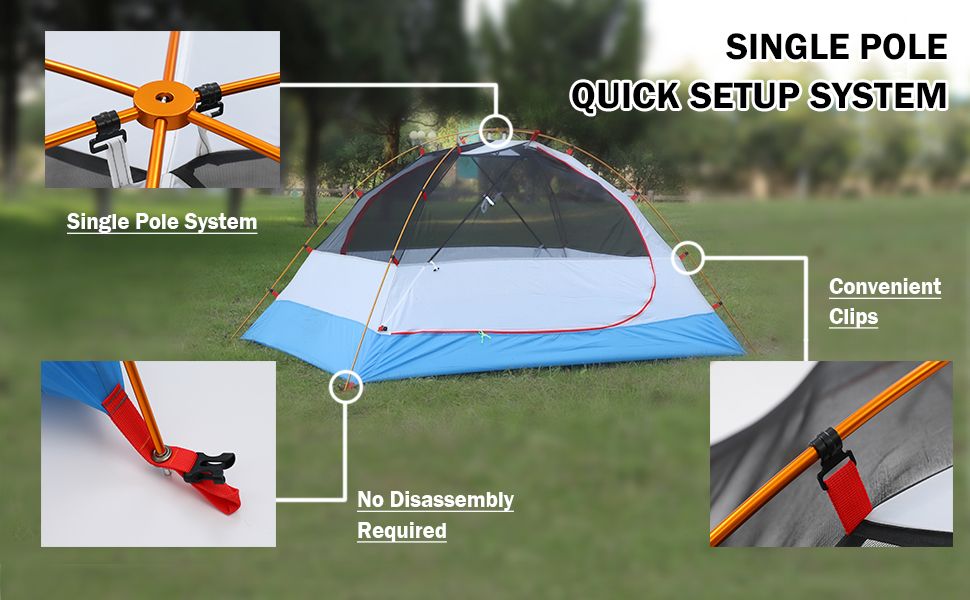 AYAMAYA 4 Season Backpacking Tent
Check The Price On Amazon
Why We Love It
Welcome to the AYAMAYA, a 4-season budget backpacking tent that's ultralight and waterproof. This two-person backpacking tent is perfect for couples or solo campers who want a spacious, lightweight, and weatherproof option for their next backpacking trip.
Made of 3000MM waterproof PU-coated 210D oxford groundsheet, the wind, rain or snow won't find their way into this two-person tent. And the 190T polyester breathable inner wall with a large B3 no-see-um mesh wall will keep the tent ventilated and the bugs out.
The 7.9mm 7001 aluminum poles make this a lighter tent super light, weighing in at just 5.7lbs, so it's easy to carry on even the longest hikes.
This tent also features vestibule space, one on each side of the tent, providing a larger floor area and extra storage space for all your camping gear.
So if you're looking for a reliable and affordable budget backpacking tent that won't weigh you down on the trail, the AYAMAYA 4 Season Backpacking Tent is the perfect option for you!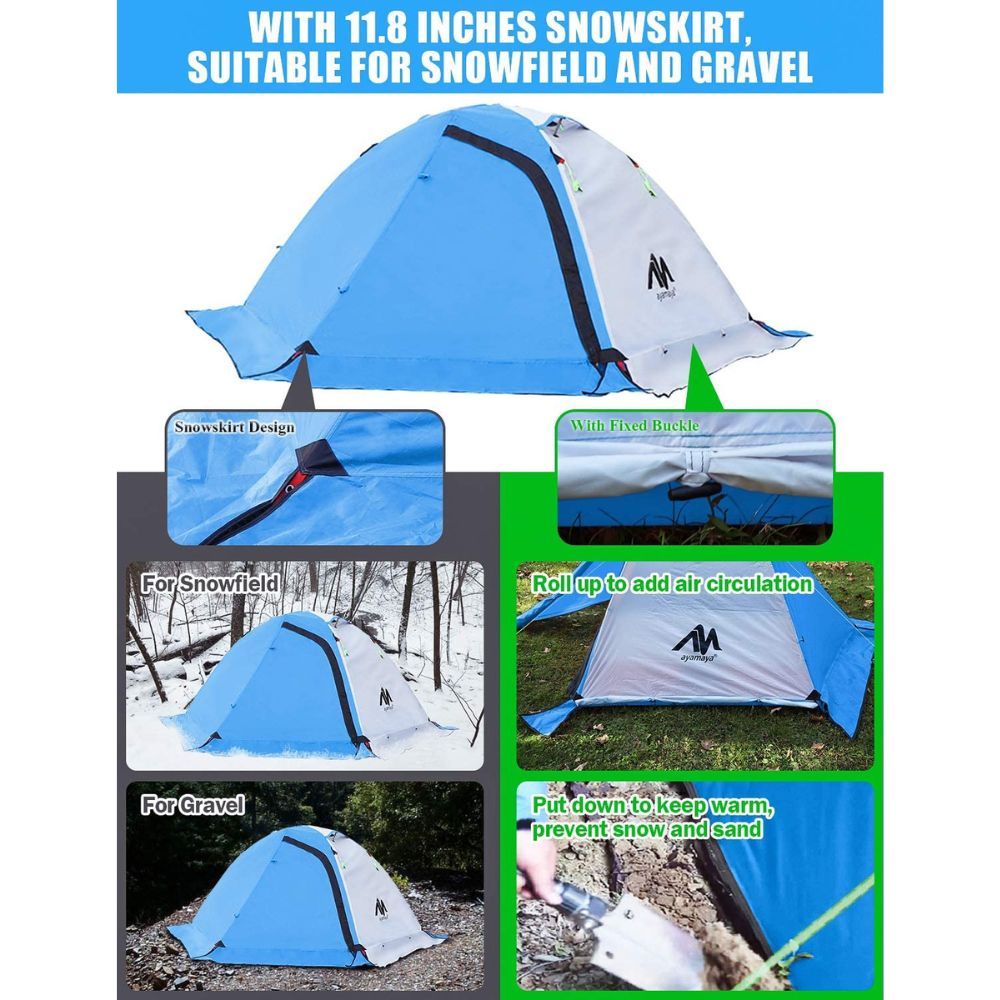 What You Should Know About It
Setting up a tent can be frustrating, especially when you're trying to do it by yourself. This backpacking tent has a special pre-attached automatic setup aluminum pole that makes it easy to set up or take down in less than 2 minutes.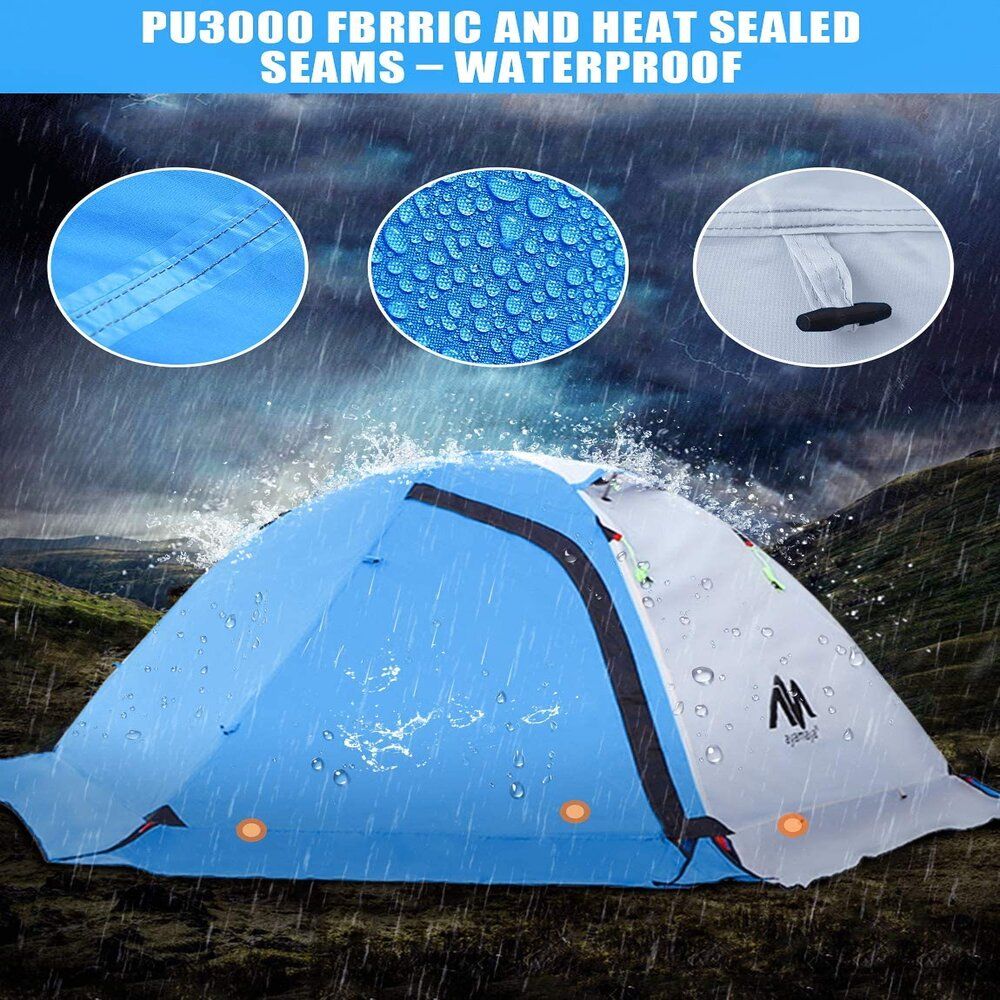 The freestanding design means the tent can be moved and relocated without having to disassemble, and the double-layer design provides weatherproofing for windy or rainy days. Double-wall tents are much better than single-wall tents for four-season camping. The inner layer can also be used alone as a ventilated tent, and the outer layer can be used alone as a sunshade. This versatile double-wall tent is perfect for backpacking, hiking, expeditions, fishing, kayaking, and camping.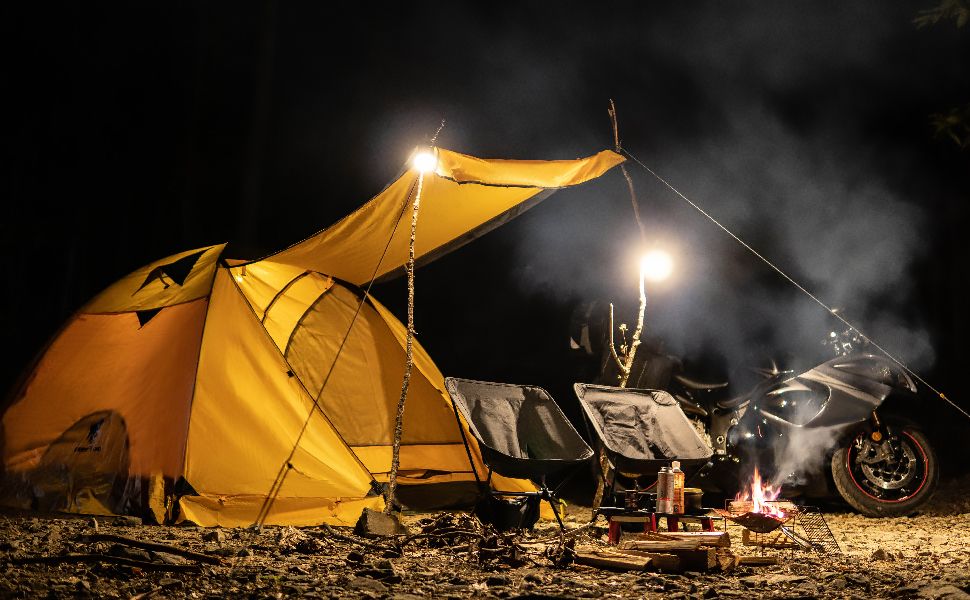 GEERTOP 4 Person Tents
Check The Price On Amazon
Why We Love It
Looking for a tent that can comfortably sleep four people, is lightweight, and is waterproof? Look no further than the GEERTOP 4-Person Tent!
This budget tent is made of high-quality materials that are fully rainproof and extremely lightweight. The inner tent is made of breathable polyester, the floor is made of PU 5000 mm Oxford fabric, and the fly tarp is made of PU 3000 mm anti-tear checkered polyester. The seams are double-stitched and sealed perfectly to improve the waterproofing and keep you dry even in the wettest conditions.
The strong aluminum poles add plenty of stability, and the double-zipper design lets you can pull the zipper inside or outside, making it convenient to get in and out.
When packed up, this 4-season ultralight dome tent only weighs 9.1 lbs, making it easy to transport. Don't let a little rain keep you from enjoying your next camping trip - make sure you bring along a GEERTOP 4-Person Tent!
What You Should Know About It
Camping is a great way to enjoy the outdoors, but finding the right tent can be a challenge. If you're looking for a tent that is both breathable and portable, these budget backpacking tents feature two entrances, two ventilation windows, and a vestibule that can be used as an awning.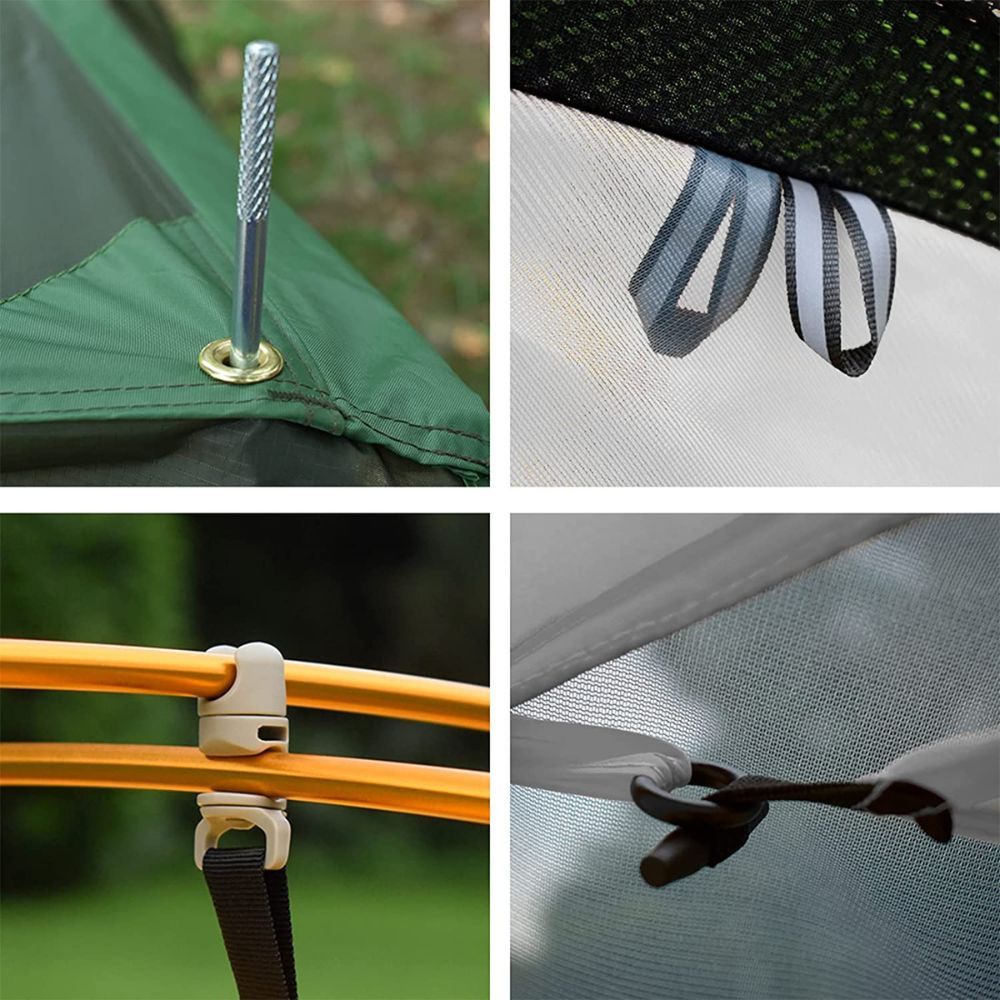 The outer door curtain can be rolled up and fixed with a buckle, making it easy to use. The interior pockets keep your small items organized. This weather-resistant test is the best budget 4-season tent we've seen for families or groups of friends. This tent has enough interior space for everyone to enjoy.
The snow skirt design is ready to handle heavy snow and the double wall makes this tent ready for any season.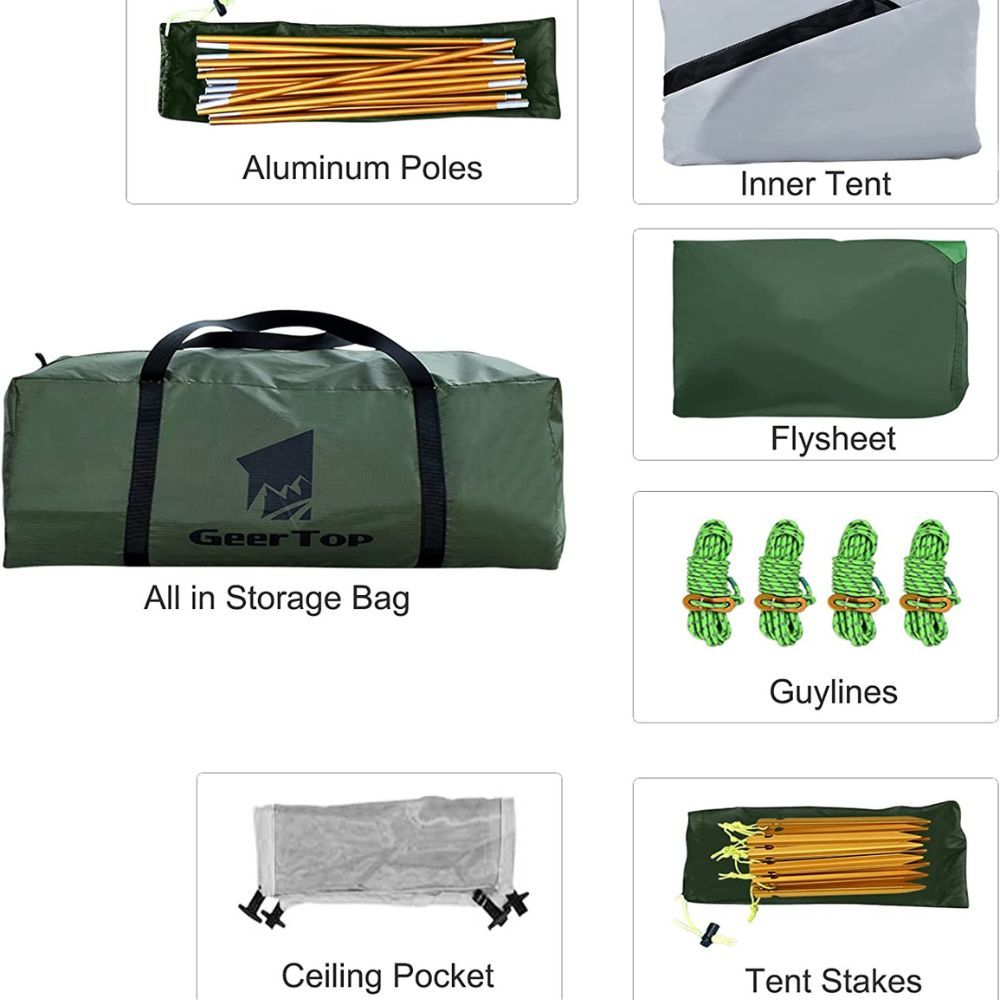 These budget backpacking tents are quick and easy to set up, even for beginners. With their free-standing design, you'll be able to set this up in just minutes. So whether you're going on a summer camping trip or a winter getaway, these four-season tents from GEERTOP are ready to provide you with shelter in the outdoors.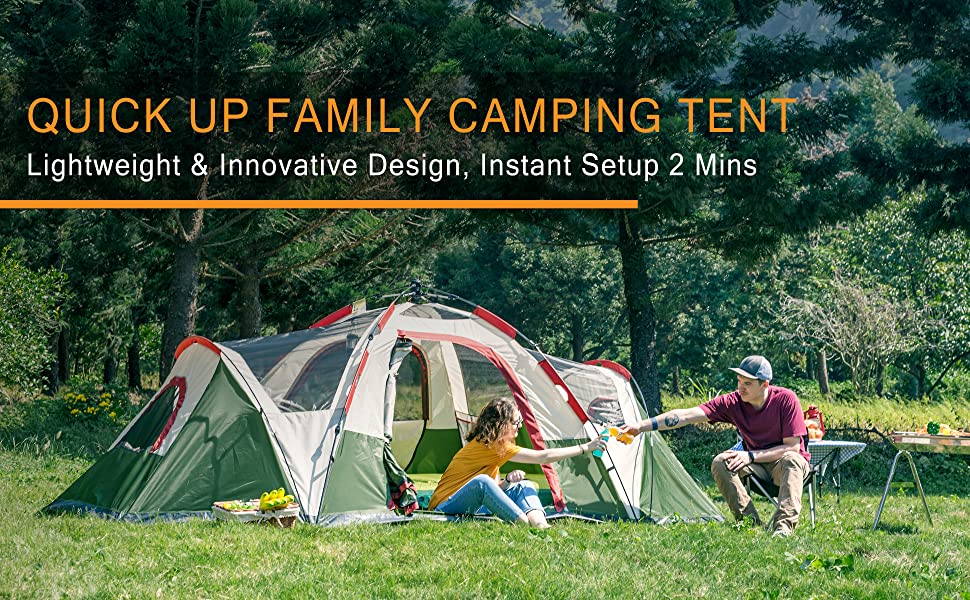 QUICK-UP 6 Person Tent
Check The Price On Amazon
Why We Love It
We know that when you're looking for a tent, you're not just looking for anything - you're looking for the best budget 4-season tent available! You need something that's going to be easy to set up, easy to pack up, with a small packed size for easy transport. Lightweight tents should keep you and your family comfortable no matter where you are. That's why we suggest the QUICK-UP 3/6 Person Tent.
This smart little tent is perfect for camping, backpacking, or even taking on a road trip. With a spacious 13.5' X 7' floor area, it can easily sleep 2 adults and 2-3 children in sleeping bags (not to mention all of your gear). That's a lot more interior space than most tents can provide.
Also included is a door extension which doubles as an awning for extra weather protection. So if you need more interior space than the standard two-person tent, this should be your go-to.
Whether you're camping in the great outdoors or hiking through the woods, you'll be able to rest assured knowing that you have the QUICK-UP 3/6 Person Tent keeping you safe and sound.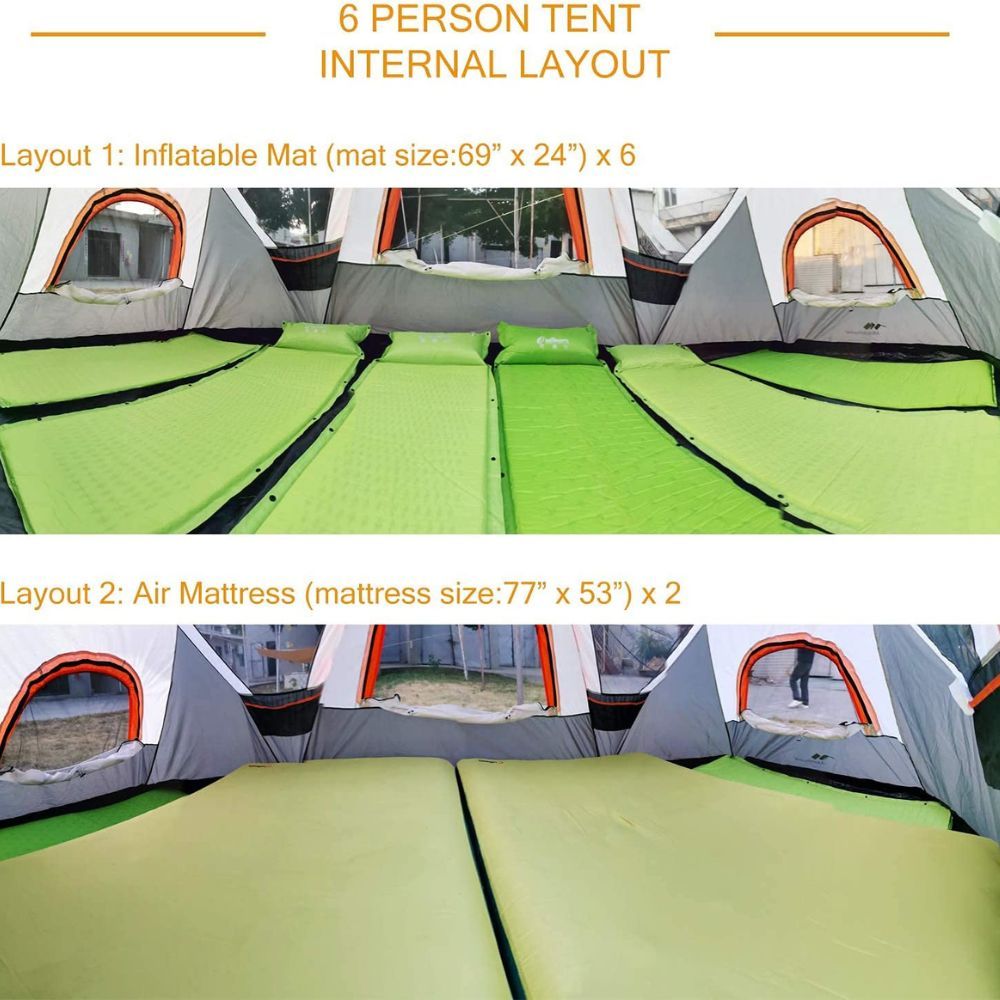 What You Should Know About It
When you head outdoors, the last thing you want to do is spend all your time setting up and taking down your tent. With the Quick-Up tent, you can be in and out of your tent in seconds! The advanced hub system design means that one person can set it up with ease.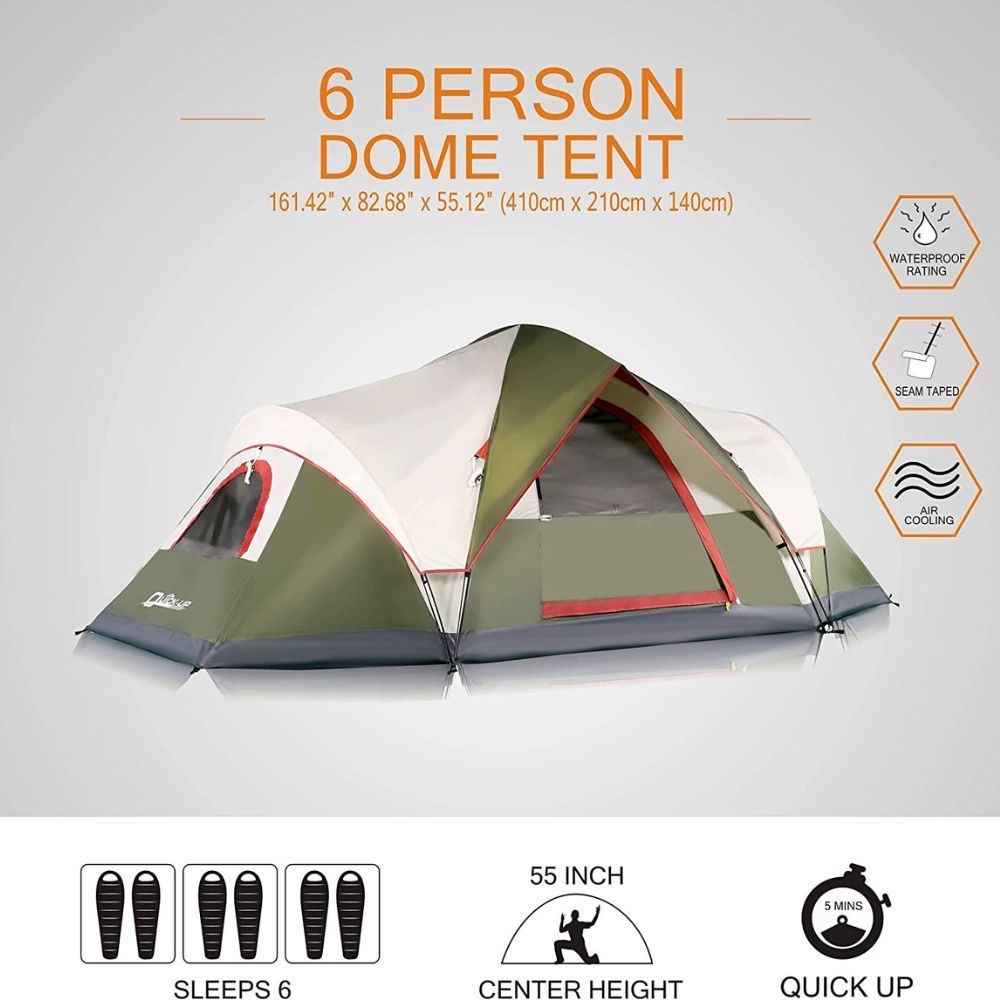 And the best part is that you don't have to sacrifice interior space or comfort - this tent has enough room to fit two queen-size beds and even has extra headroom so you can move around and stretch out.
The excellent ventilation system means that you won't have to worry about condensation or bugs, and you can even enjoy the view!
Whether you're spending a day at the beach or camping out in the wilderness, this Quick-UP is one of the best four-season tents and it's ready for any adventure.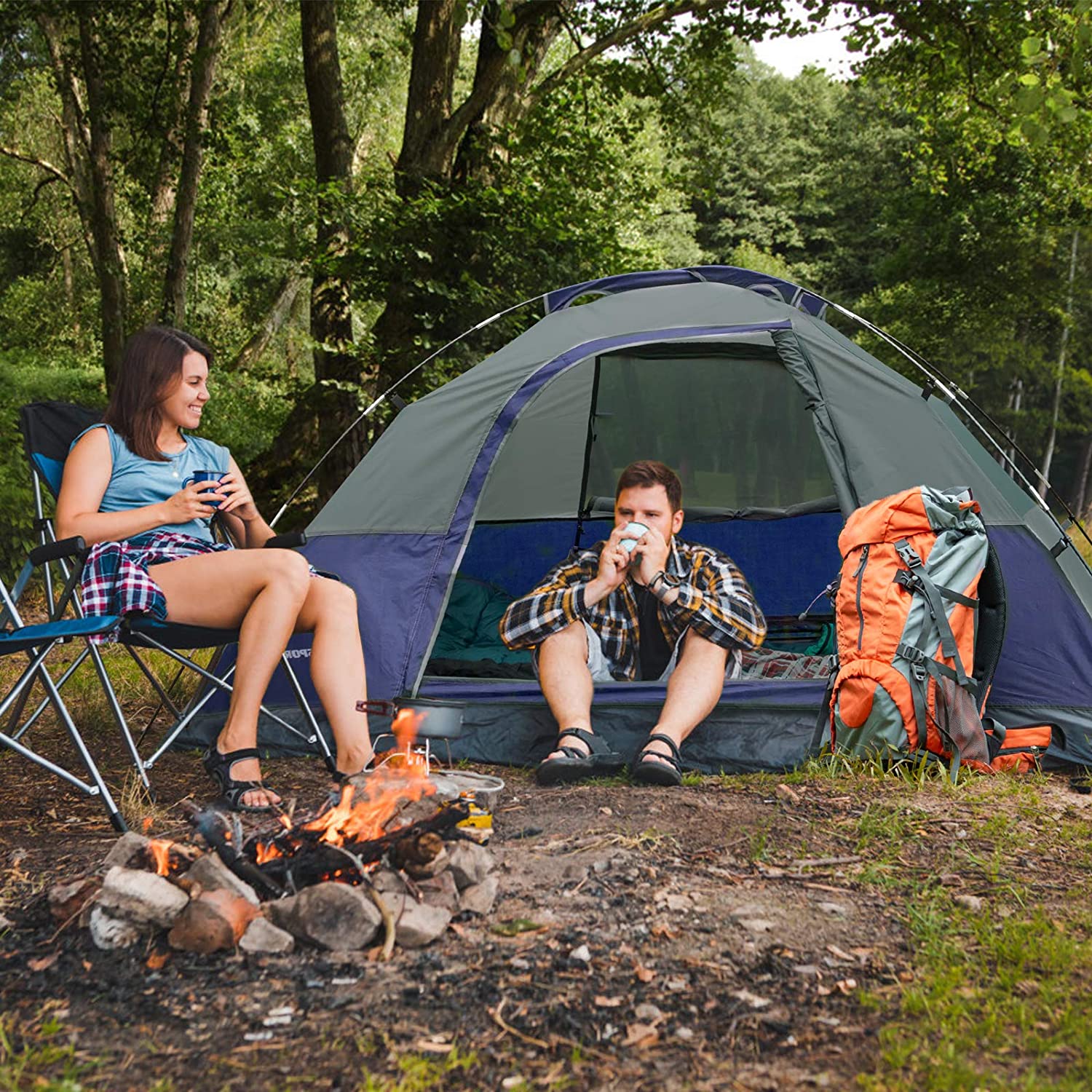 Forceatt Camping Tent
Check The Price On Amazon
Why We Love It
Looking for a versatile, lightweight, and waterproof tent perfect for any camping trip? Then check out the Forceatt Camping Tent! This tent is made of durable polyester and Oxford cloth and can accommodate 2-8 people comfortably. It features two doors that open in a variety of ways and is perfect for park outings, car camping, or all-weather outdoor travel.
Plus, the bottom layer is made of 210D Oxford cloth with a PU5000 waterproof rating, so you can rest assured knowing your belongings will stay dry. So whether you're looking to camp in the rain or under the stars, be sure to pack our Forceatt Camping Tent!
What You Should Know About It
Setting up most budget tents can be a tricky process, but their budget tents are a breeze! The tent comes with everything you need for a quick and easy set-up, including foldable fiberglass poles and a smooth two-way zipper. Plus, the carrying bag is the perfect packed size for storing the tent when you're on the go.
This backpacking tent is designed to do more for you than the usual two-person tents usually do. These double-wall tents provide overhanging eaves which allow you to keep the tent ventilated even in wind and rain. Its larger capacity and interior space include two doors, and its pack weight is only 4.4lbs. So if pack weight is important to you because you need to hike a long way to your campsite, this is a great backpacking tent to bring along.
All of these features and more make this Forceatt one of the best budget backpacking tents around.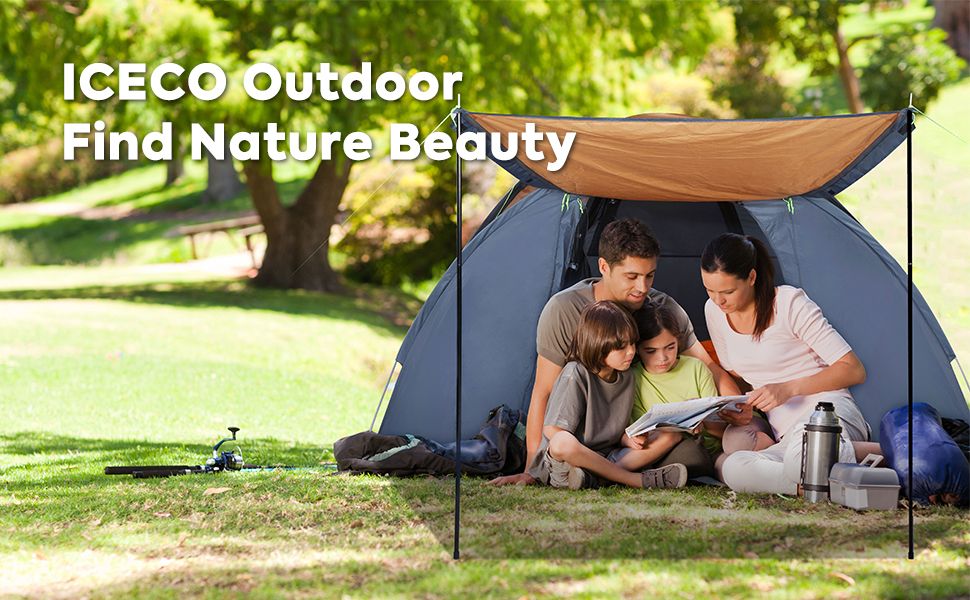 Iceco Dark Room Tent
Check Price on Amazon!
Why We Love It
Are you looking for a tent that will make your camping trip more enjoyable?
Then check out the ICECO darkroom tent! This tent is made of high-quality, durable materials, so you can rest assured that it will last a long time. It is also waterproof and windproof, making it ideal for any weather conditions. Plus, it is very easy to set up within minutes!
Their single-wall tents offer a thicker polyester fabric keeping you cool and shady when the sun is strong. With its large vestibule, you can store your outdoor equipment and use the front door as a sunshade. It sleeps up to four people in sleeping bags and it fits one queen-sized air mattress.
So what are you waiting for? Get the ICECO tent now and enjoy your next camping trip!
What You Should Know About It
ICECO tents are perfect for camping in any season! The mesh door and windows provide excellent ventilation while keeping bugs out. The removable rainfly gives you more visibility and airflow and also provides waterproofing.
Their super sturdy and ultra-weatherproof backpacking tents are perfect for any camper, and they will provide a 1-year warranty and excellent customer service.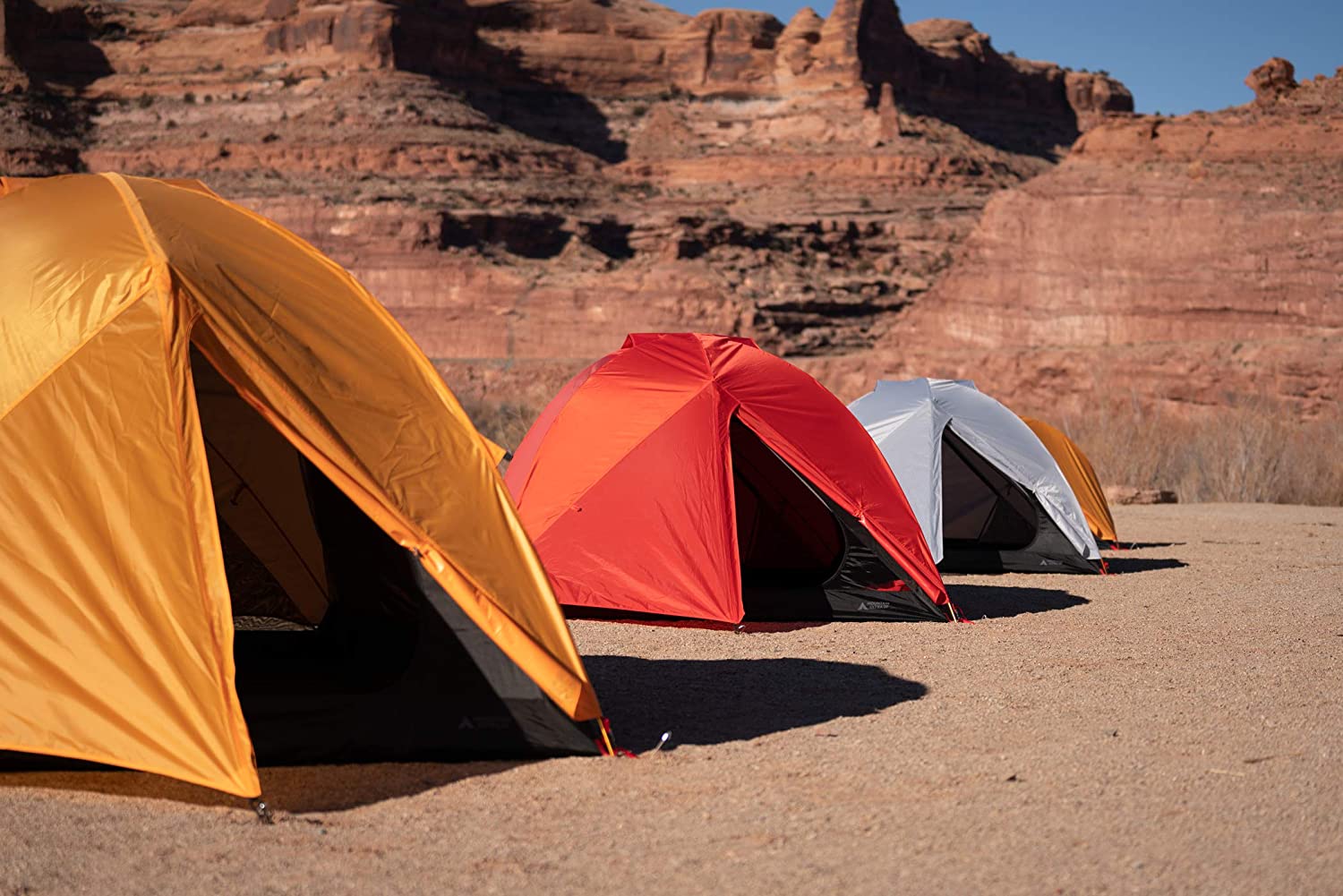 TETON Sports Backpacking Tent
Check The Price On Amazon
Why We Love It
Weighing in at only 4.7 lbs, the TETON Sports Mountain Ultra Tent is one of the lightest backpacking tents on the market, making it perfect for those who enjoy spending their time in nature. TETON's mountaineering tent is made with a waterproof rainfly and a 360-degree ventilation system to ensure that campers stay dry and comfortable even when the weather isn't ideal.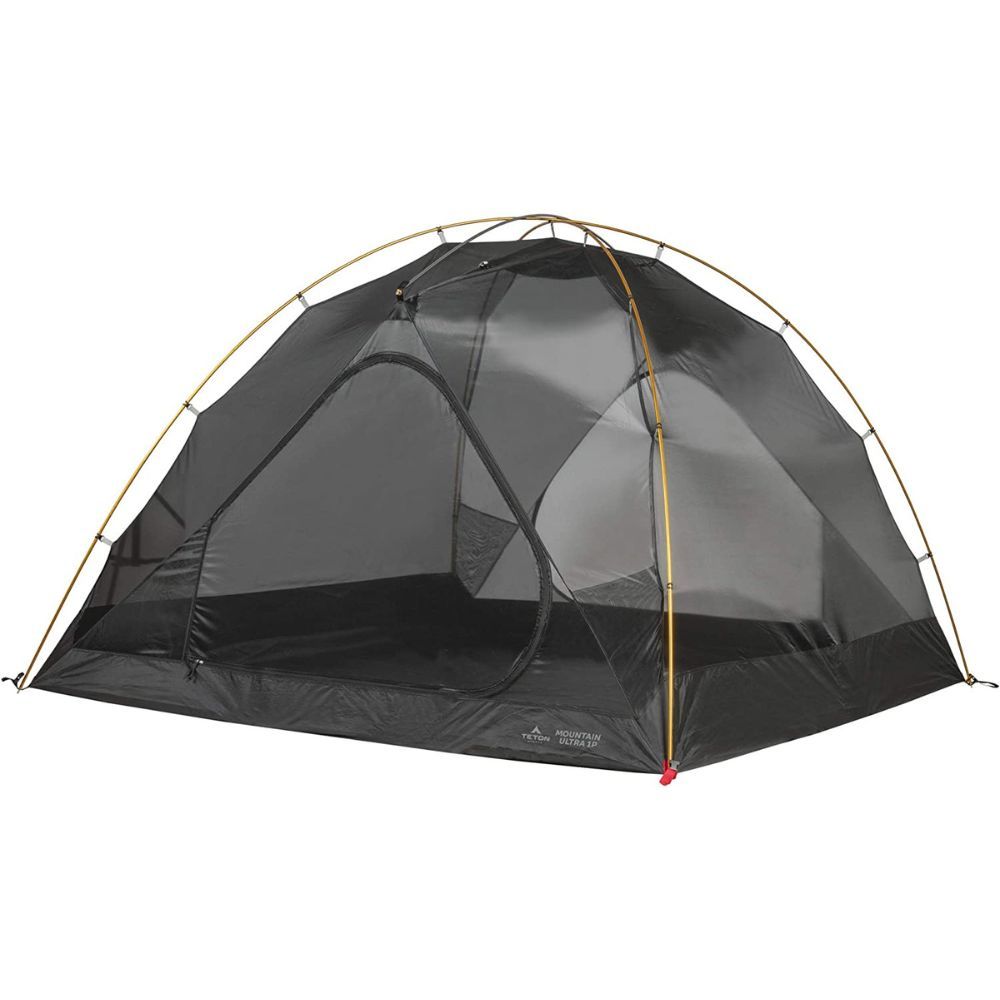 The full dome mesh top also allows for beautiful stargazing experiences. The Mountain Ultra Tent is easy to set up and packs down quickly, so you can spend more time enjoying your surroundings and less time dealing with fussy tent poles. When you purchase a TETON Sports product, you can rest assured that their amazing product support team is always available to answer any questions or concerns you may have. So get outdoors and start exploring with TETON Sports!
What You Should Know About It
This mountaineering tent is the perfect choice when you're looking for a tent that can handle all types of weather and conditions. It's available in different sizes to accommodate 1-4 people, and it's easy to set up and take down.
The 360-degree ventilation system ensures that you'll be comfortable even in hot weather, and the waterproof design means that you won't have to worry about rain or snow.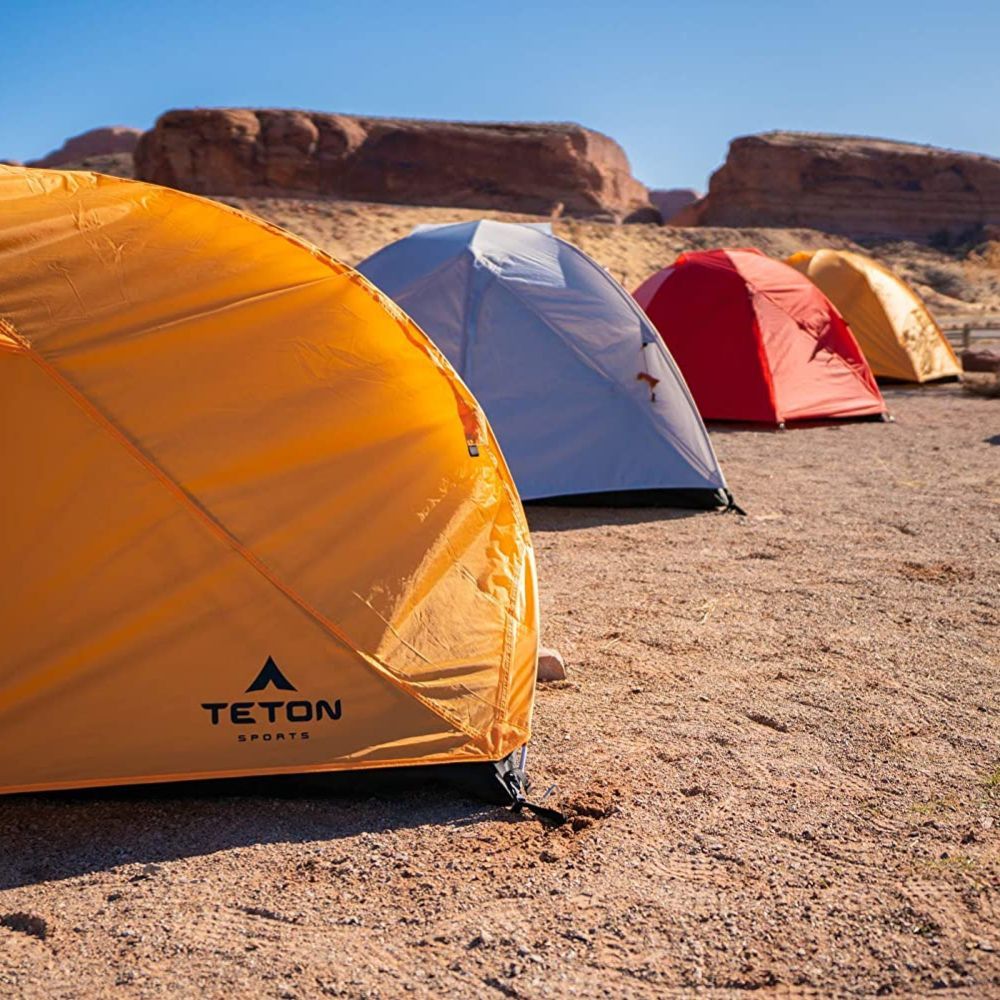 Hiking out away from the noise and light pollution of the city to where you can enjoy the quiet and the stars is one the best things about camping. Having a reliable backpacking tent that is ready to handle any weather it encounters makes the experience even better.
So when you're ready to explore the great outdoors, the TETON Mountain Ultra Tent is one of the best mountaineering tents you can get your hands on.
The Best Affordable All-Season Tents - FAQs
It can be hard to know what questions to ask when you're trying to buy a new tent. There is a lot of technical language and specific features to become familiar with in order to make a purchase you'll be happy with.
We've compiled some of the most frequently asked questions about the best all-season budget tents so that you can make an informed decision before you buy.
Do you need a 4-season tent for winter?
In general, a four-season tent is a good investment if you plan on doing any camping or backpacking in cold weather conditions. A four-season tent is typically thicker and more insulated than a three-season tent, making it better equipped to handle severe weather conditions like high winds and heavy snowfall.
Is a 3-season tent OK for winter?
A 3-season tent is typically fine for winter weather, but there are a few things to consider.
First, make sure the windows and doors are well-sealed to keep out the cold air.
Secondly, use a groundsheet to help insulate against the cold ground.
Lastly, consider using a space heater or other heating source inside the tent to keep it warm.
If you follow these tips, you should be able to stay comfortable in your 3 season tent during winter weather.
Are 4-season tents warmer?
There's no definitive answer to this question since it depends on a lot of different factors, but in general, 4-season tents are designed to be warmer than 3-season tents. This is because they generally have thicker walls and more insulation, which helps to keep warmth in and cold out. They also often have additional ventilation options that can help to regulate temperature.
Of course, the specific material and construction of double wall tents will also play a role in their overall warmth. So if you're looking for a 4-season tent that will keep you extra warm, it's worth doing some research to find one that's made with high-quality materials and has been designed specifically for cold weather use.
What is the best weatherproof tent?
Everyone will have different preferences for their budget backpacking tent. Some people prefer a heavier-duty tent that can withstand bad weather, while others prefer a lighter-weight tent that's easier to carry. However, some features are common among weatherproof tents. These include:
- A waterproof and breathable fabric: This is important to keep you protected from the elements while still being able to ventilate the tent so you don't get too sweaty inside.
- A solid frame: The frame of the tent should be made from materials that won't bend or break in strong winds.
- Good guy lines: Guy lines anchor your tent to the ground and prevent it from blowing away in high winds.
Is a four-season tent worth it?
A four-season tent is definitely worth it if you want a tent that can be used in all seasons. A four-season tent will provide you with protection from the wind, rain, and snow, and it will also keep you warm in the winter.
What makes a tent 3 or 4 seasons?
3 and 4-season tents are designed to be used in a variety of weather conditions, from cold winters to hot summers. Typically, 3-season tents will have more mesh panels to provide better ventilation in warmer weather, while 4-season tents will have fewer mesh panels and more solid fabric panels to provide better protection from the wind and snow.
What makes a tent good for cold weather?
The construction of a tent is key to its cold-weather performance. Tent poles should be made of aluminum or another material that does not conduct heat well. The fabric of the tent itself should be breathable to allow moisture from your body to escape, but also keep out wind and precipitation. A double-walled tent is ideal, as it provides an additional layer of insulation. Details such as draft collars and vestibules can also help keep the interior of your tent warm in cold weather conditions.
How do you insulate a 3-season tent?
There are a few different ways you can insulate a 3-season tent, depending on what materials you have available and how much money you want to spend.
One of the easiest ways is to use a tarp or ground cloth underneath your tent - this will help to keep the cold ground from seeping in and making your sleeping area colder. You can also buy specialized camping mats which have insulation built in or even just lay some extra blankets down on top of your sleeping bag.
Another way to insulate your tent is from the inside - using something like Reflectix (a bubble wrap-type material) on the walls and ceiling of your tent will help to reflect heat back.
How do I choose a 4-season tent?
When looking for a 4-season tent, you'll want to consider several factors including the weight of the tent, the number of people it can accommodate, how easy it is to set up, and how weatherproof it is.
You'll also want to make sure that the budget tents are designed to withstand winds and heavy rain or snow. Most 4-season tents come with a waterproof and water-repellent canopy, as well as sealed seams and guy lines that will help keep you dry and secure in bad weather.
So when choosing a 4-season tent, be sure to consider all of these factors in order to find the best option for your needs.
How do you pick a winter tent?
There are a few things to consider when picking a winter tent:
-Tent type: three-season vs. four-season. Three-season tents typically have more ventilation and are lighter in weight, while single-wall tents are designed for harsher conditions with thicker walls and less airflow.
-Size: usually, the bigger the tent, the more comfortable it is. But you also don't want a tent that's too big for the space you have available.
-Weight: if you're planning on carrying your tent long distances, weight becomes a more important factor. Lighter-weight tents typically cost more money.
-Set up: some tents can be set up by one person, while others require two people.
The Most Affordable Four-Season Tent For You
If you are looking for an affordable four-season tent, we have a well-researched list of recommendations for you. Our team has tested and reviewed many different tents and these are some of the best options that will keep you warm and dry no matter what the weather throws your way. So don't wait any longer, get yourself a top-rated budget tent today and be prepared for anything!